Tresco: Your Island Muse
Maggie O'Brien, artist and Tresco Painting Break leader, reflects on what it's like to seek inspiration on the islands.
The painter is totally spoilt for choice on Tresco. I have been painting and leading painting trips on the Island for more than 10 years – and I always find fresh inspiration. The light is intense and searing and years of experience have taught me the best and quietest places to go to see its effects on the sea and, even more important, be out of the wind. For a small island, just two miles by one, Tresco has incredibly varied terrain and therefore offers great scope for an artist.
The north end is wild and rugged with open moorland and crashing waves. The east and west coasts have long, white sand beaches and small, scalloped coves with aqua waters and tall swathes of marram grass. In high summer the dunes are covered in wild agapanthus, a riot of blue and white all the way down to the sea.
Off shore the views are incredible. Scilly is an archipelago and Tresco is surrounded by islands. It's a seascape painter's paradise. Inland there are clusters of old granite cottages, tiny fields and two beautiful lakes. The Abbey Garden is world famous and full of quiet corners and I always spend one day amongst the spectacular tropical planting.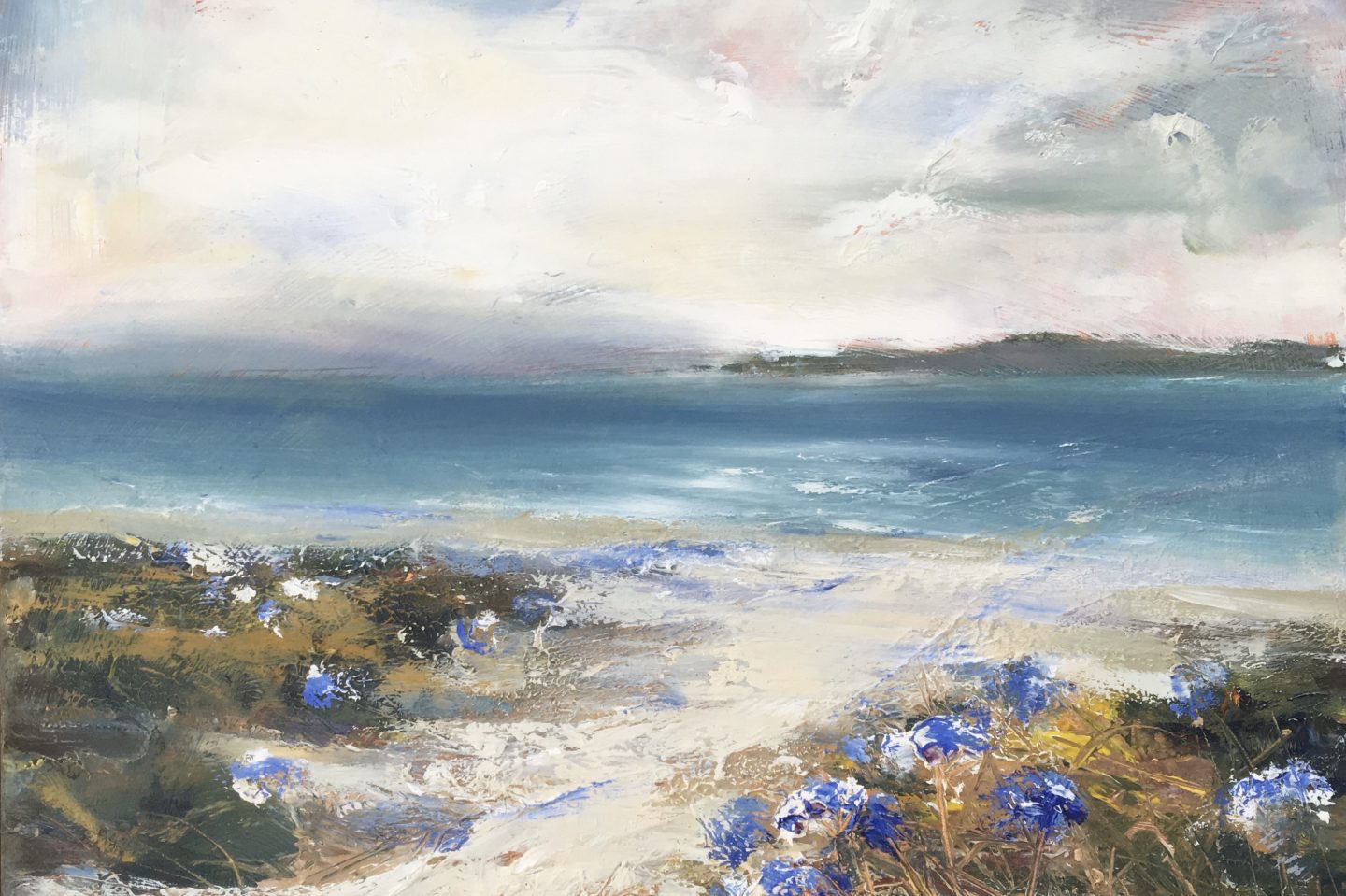 I have so many favourite places to paint. Gimble Porth is a quiet and beautiful horseshoe of a cove where seals gather to fish and play. Appletree Bay is a wonderful place to catch the afternoon light over the island of Samson, and Pentle Bay which nestles below Scots pines and has stunning views out to St Marys and the Eastern Isles is achingly beautiful at low tide in the soft morning light.
I have many wonderful memories of working on Tresco. In 2014 I was marooned on the island in the February storms and had a glorious afternoon painting the 30ft waves crashing over the north end of Brhyer. I was dry and out of the wind in my perch in an arrow slit in Cromwell's Castle. Another very misty day I was working on Green Beach in gouache, usually a slightly stiff and dry medium but that day it slithered about beautifully in the moist air and I managed to capture the mysterious and languid mood of the Islands.
This year I visited again in February and took big sheets of brown paper and pastels to a seat above Appletree Bay and had a fantastic afternoon in glorious sunshine making energetic and colourful drawings that totally expressed my joy in being on the Island again.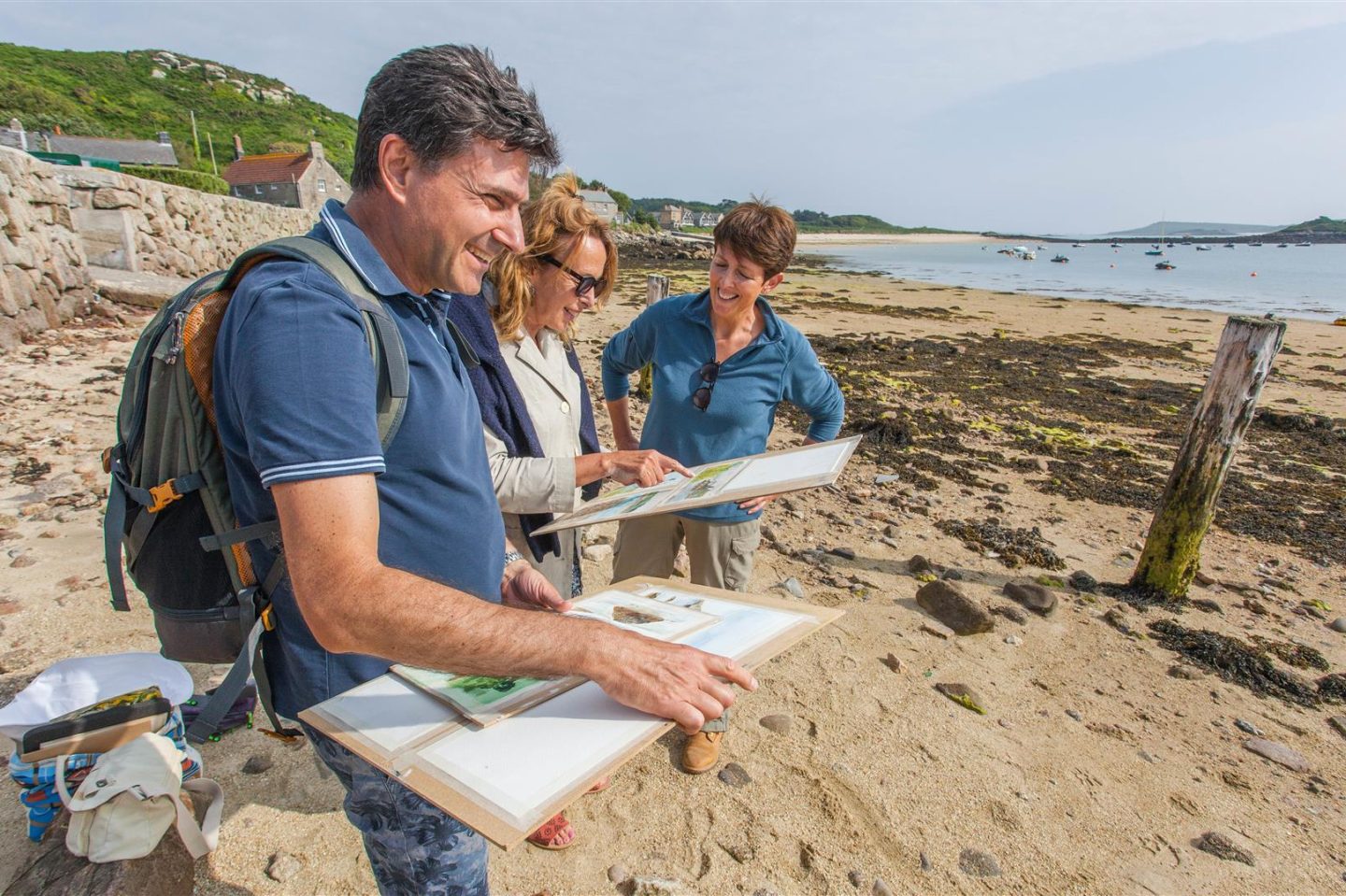 Lovely as the landscape is, there are other advantages to working – and teaching - on Tresco. There is studio space for morning demos and late afternoon chats where we look at what we've done over a cup of tea. The New Inn is an excellent base, warm and cosy with a great atmosphere, pleasant rooms and good food. Everywhere is walkable and we have a buggy to carry the painting gear.
Newlyn School of Art supply everything you will need so you can save your baggage allowance for your walking boots. Nowhere is far from a lovely bistro for a snack or cup of tea and there is little better after a long days painting than a swim in the gorgeous spa pool. We have three course meals every evening and on one of our days we visit neighbouring Bryher and if you have the energy in the evenings on tresco you can hire a bike and explore further.
Perhaps the best thing about a painting holiday is the comraderie. Evening meals are great fun and firm friendships are made during the trials and tribulations of painting. Some people bring partners who team up to walk or island hop, others come on their own and make new friends.
I am a patient, encouraging and supportive tutor. In my experience people learn best when they are relaxed and happy and my courses are always a good laugh! I am very happy with mixed levels of expertise, that way people learn from each other as well as me. There is no right or wrong way to paint, everyone finds their own way with the support of the group and I am keen to help students develop their own unique language.
Find inspiration on Tresco with our painting breaks - we collaborate with the prestigious Newlyn School of Art to offer a series of creative retreats throughout the year. Maggie will lead a late September retreat this year - find full details below.