Discover Island Wellness
Friends of Tresco share their thoughts on why we make such an apt location for seeking wellness, connection and calm.
Tresco wellness has many faces – from the gentle flow of a sunrise yoga session to the heart-pumping chill of a solitary sea swim. Here are a few perspectives on island wellness and the many forms it can take:
Tresco is my place of retreat. The fact that I'm on an island is important – there is a sense of being completely away from all my usual stresses.
I come to paint, which in itself is an absorbing and therefore healing activity, but simultaneously I can recharge and relax. A friend recently pointed out that painting is a form of mindfulness, and I find this is even more apparent on Tresco where you can't help but become completely absorbed in your subject matter.
I also spend time drawing and writing, collecting shells and taking photographs of the ever changing light, and I swim in the beautiful spa pool every morning. I'm a bit of an insomniac at home but it's interesting that I sleep soundly on Tresco. It's my happy place.

Maggie O'Brien is an artist, regularly exhibiting with Gallery Tresco. She is also one of the tutors leading Painting Breaks on the island, in collaboration with the prestigious Newlyn School of Art.
Join Maggie and discover the absorbing pursuit of painting on-island during her upcoming break this September.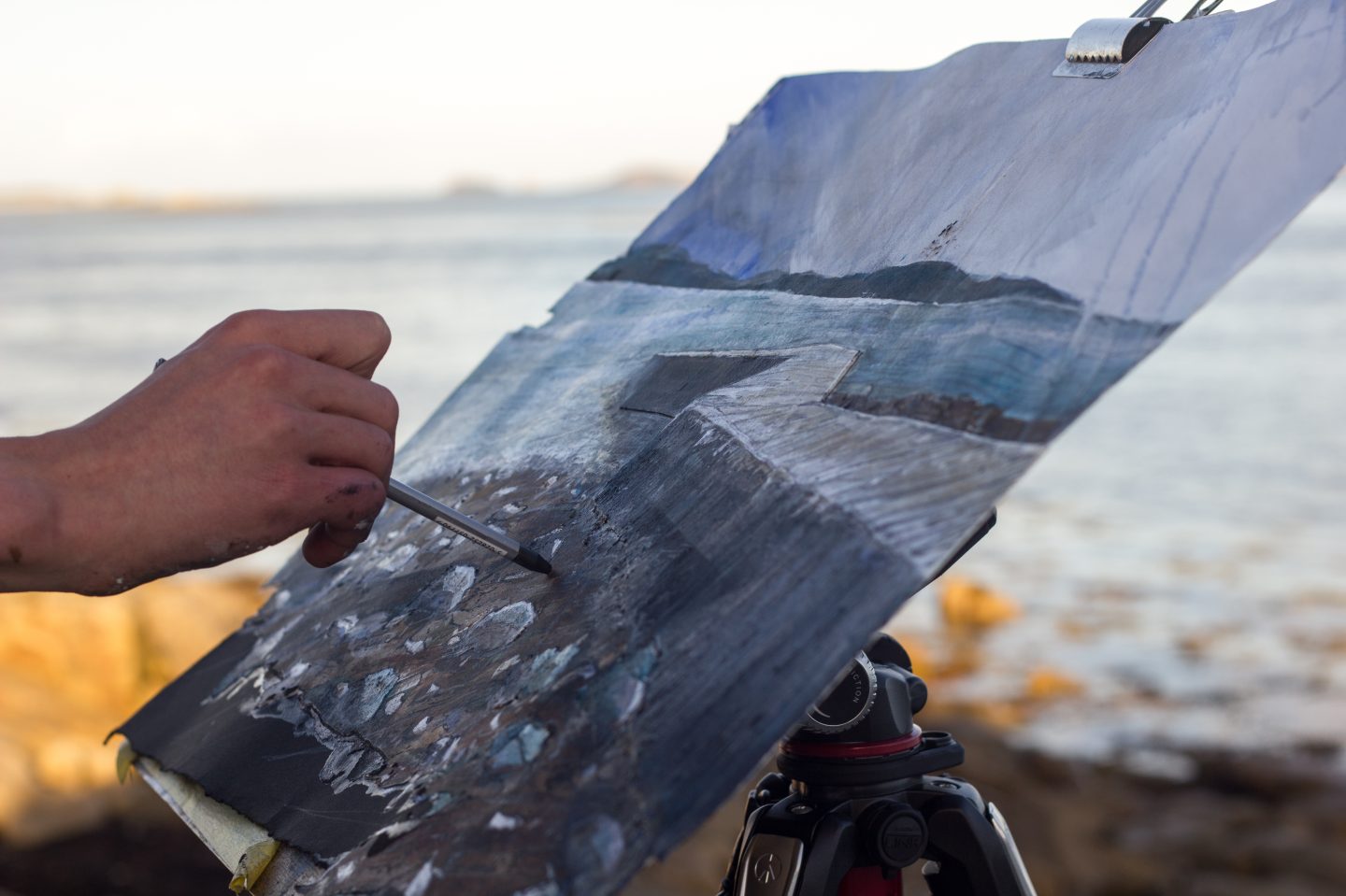 Tresco is an apt setting to practise the three pillars of mental health; connect, be active and observe. The geography of the island itself offers a refuge and endless opportunity for immersion in nature.
The islands have a history as a haven for healing including the use of local botanicals for remedial purposes. The lack of light pollution encourages marvelling at magnificent starry skies as well as the ability to attune our circadian rhythm to the natural light cycle, restoring balance on a physiological level.

Gem Hansen lives on the neighbouring island of Bryher, and regularly 'commutes' to Tresco to lead weekly Vinyasa yoga sessions. Sometimes these commutes can even take the form of a paddle across the channel during a very low tide.
This October, Gem will lead our first Wellbeing & Yoga Retreat, combining meditation, mindfulness and yogic flow with Tresco's soothing surroundings.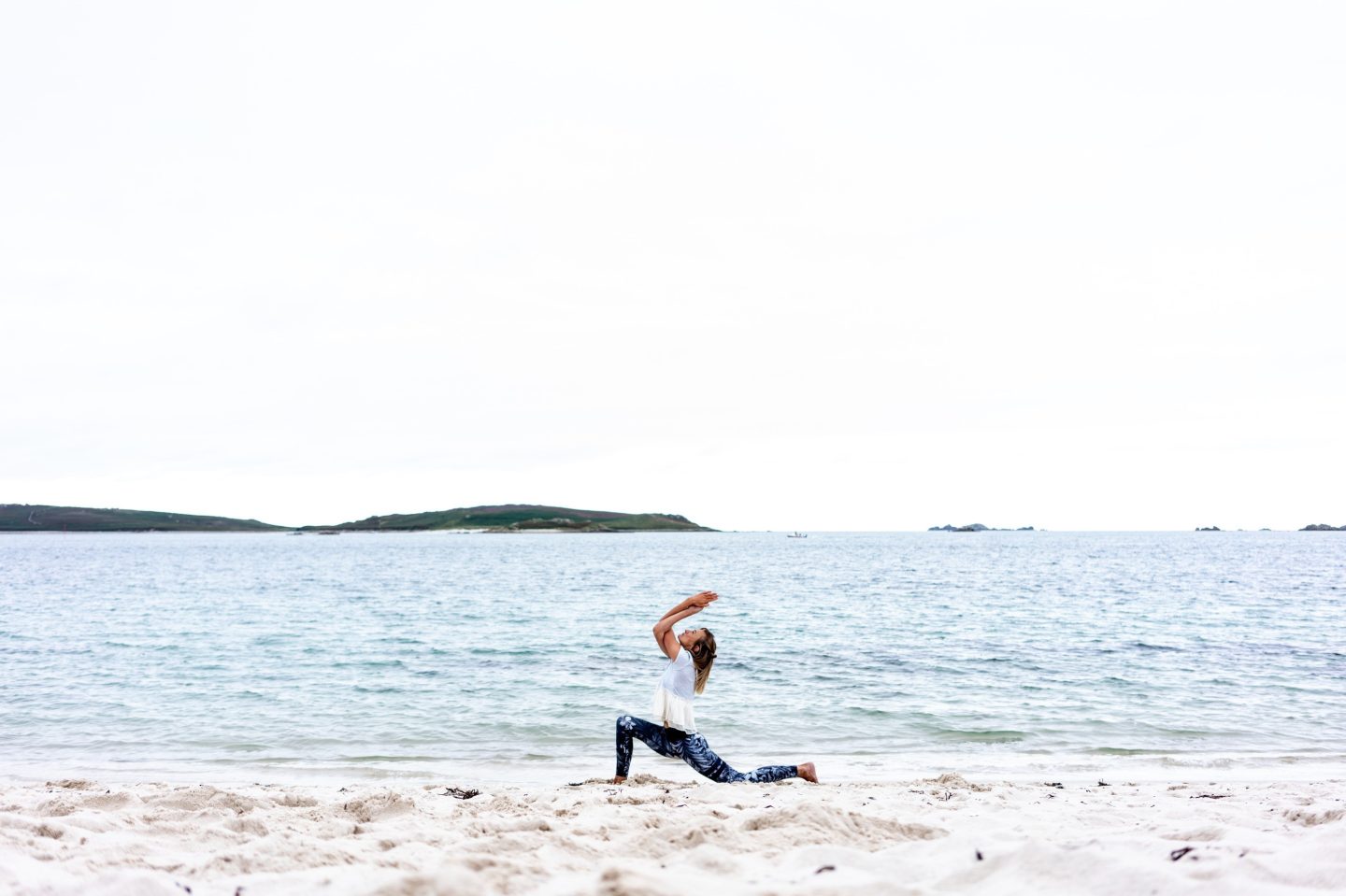 Tresco lends itself to connecting with nature and for me this means sea swimming. I love the daily ritual of my early morning dip where it's only me, a stretch of virgin white sand and the shushing of shells as they wash gently up and down the tideline.
My swims reconnect me to the elements as I glide through clear waters. My rolling stroke affords me glimpses of the islands, my breath creating a rhythm that becomes a meditation on all that I see; strands of seaweed, the odd darting fish, fearsome crabs with claws fending me off as they scuttle sideways, and, on those odd joyful occasions, a young seal pup, sleek and inquisitive as to his swimming companion.
This special time restores and grounds me, ready for the day ahead.

Anna Parkes manages Gallery Tresco and is renowned across the island for her ritualistic sea swimming, embracing the elements whatever the weather or season.
Embrace some sea swimming therapy with our retreat this April, led by Olympian Keri-anne Payne of Triscape.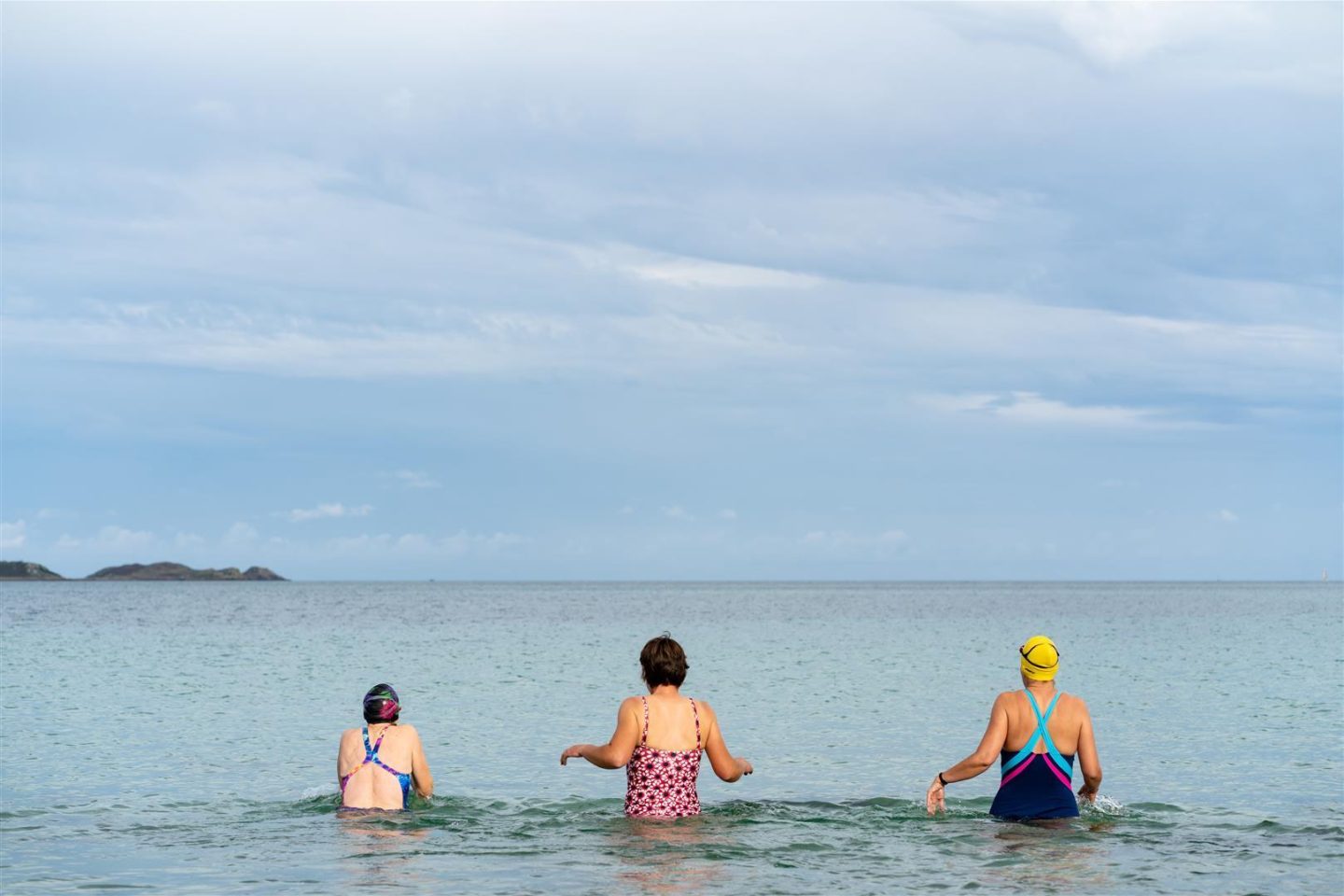 Tresco is the place where I see and feel the connection with nature flow so deep. Not just mother nature but our own nature, that which makes us who we are, which makes us tick.
Step onto this isle and magic happens. Day to day life and all it's complications drop away, leaving a time and space for us to re-connect with ourselves. Adopting yogic practice on Tresco enhances this connection further.
Yoga makes me smile, even when it is tough, demanding, dog-head down right hard. Not a surface, doesn't reach the eyes smile but a deep deep heart-felt smile that rises from the depths and reaches every cell in my body.
Lucy Aldridge has been leading Iyengar yoga retreats on Tresco for many years - join her in May for a revitalising spring retreat.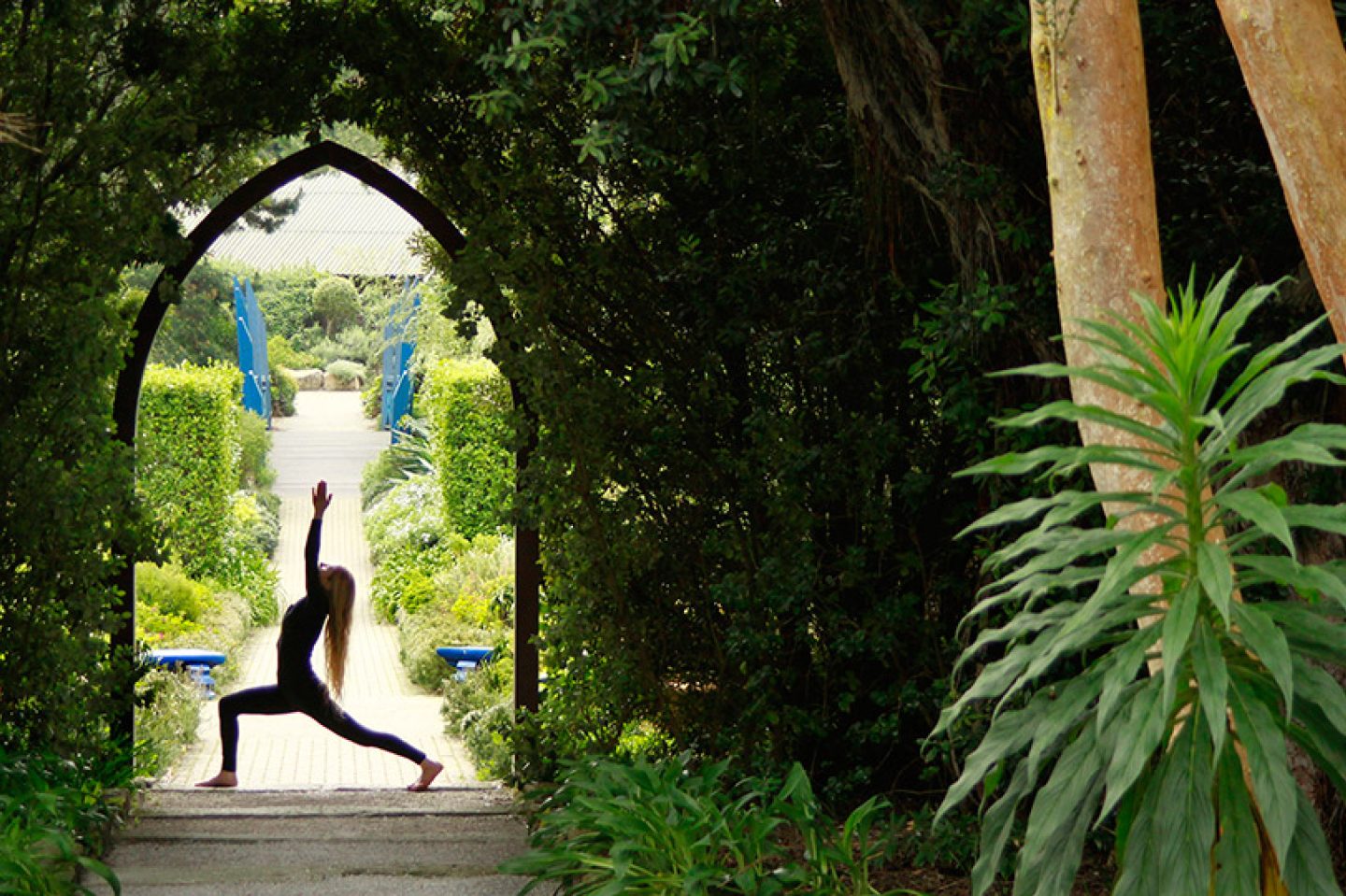 Writing is a solitary endeavour that involves hours of intense focus with no distractions. Having a sacred space to write and the right elements to refill the creative well is critical, especially in today's hustle and bustle of twenty-first century living.
There is something transcendental about Tresco that ticks all the right boxes. It must be one of the most beautiful places to write. Maybe it's the aura of mystery and history, from the ruined castles, to the spectacular Valhalla Museum filled with the figureheads of ancient galleons. Or the extraordinary terrain that makes you feel you are in the Scottish Highlands at one moment and the South of France, the next.
You're not always in the flow when you are creating and sometimes being fallow is okay. That's when it's time to take long walks, go cycling or just sit quietly in the Abbey Gardens and enjoy being in nature, absorbing the stillness and beauty of the island.
For me, Tresco is a magical, tranquil sanctuary where I can find inspiration, the space to write, and nurture not just my creativity but also my soul.

Hannah Dennison is a renowned mystery writer whose collection of works is soon to include a series set on Scilly.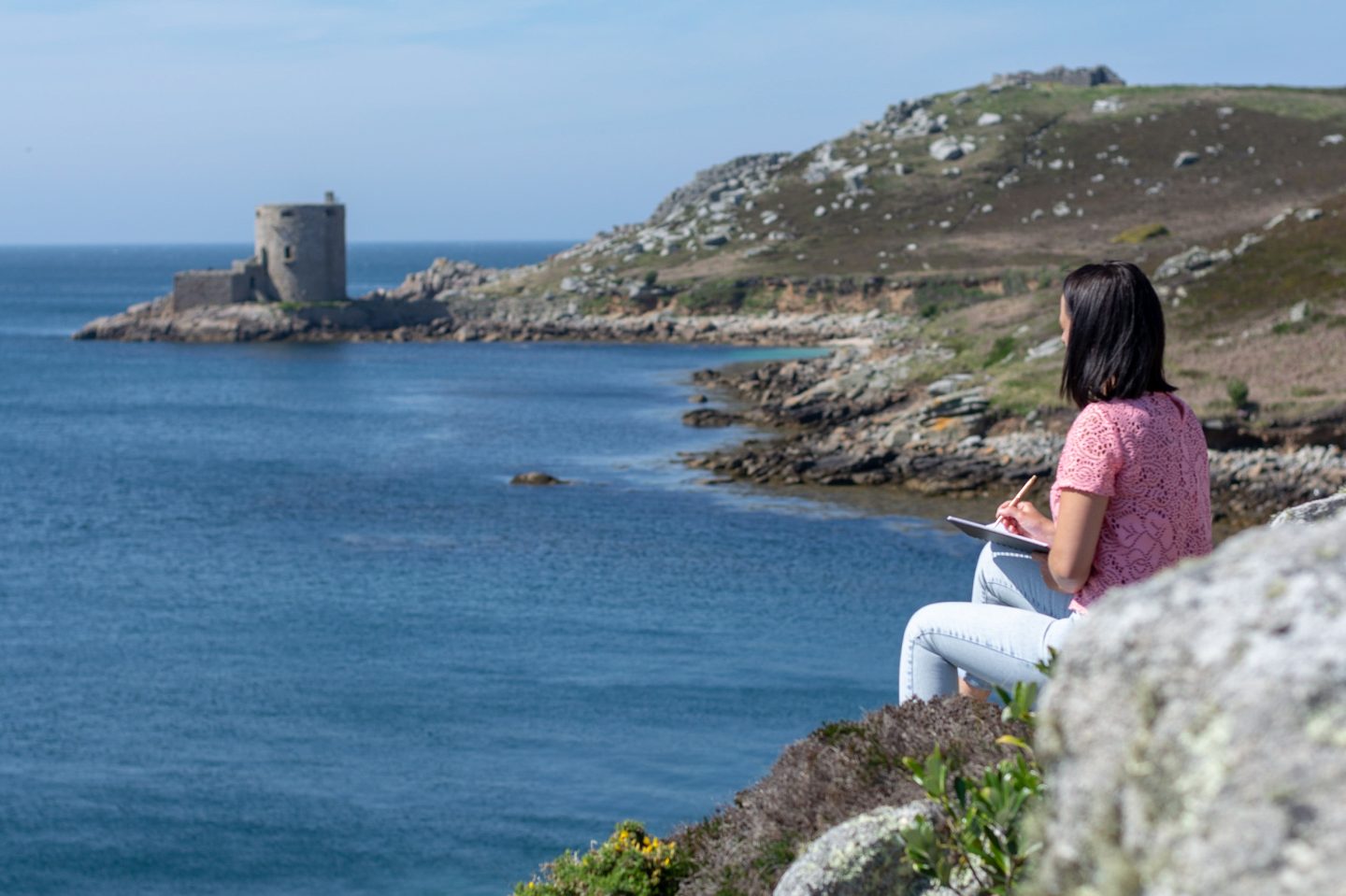 Time on Tresco provides the perfect opportunity to switch off from day-to-day stresses - in fact it's best to completely leave those behind on the mainland!
At the island's spa, we aim to enhance that further, offering you the chance to completely unwind. Let us look after you from the moment you walk in.
Whether it's a soak in the pool. detoxing in the sauna or steam room, or finding a moment for yourself in our treatment rooms, everything we offer is designed to add an extra layer of calm to an already-rejuvenating island escape. Whether it's a simple eyebrow shape or a full body therapy, in my opinion there's no better way to give yourself a little lift, to exercise some self-care and to bring out that holiday glow.
Any time you can take out for yourself should be cherished - it's vital for your mental clarity and wellbeing. We as a team here encourage you to visit us during your break for a dose of blissful me-time.
Our Spa Manager Hannah Abnett sits at the centre of our wellness offering - together with her team of therapists they deliver a range of treatments designed to help you find that holiday state of mind.