Life on a private island
Lotty Bunbury truly understands island life. Inspired by her unique Caribbean home, she created 'Pink House Mustique' and Lucy Hall tells us about the journey of the brand, their partnership with Tresco and what makes it so special...
This story is not just about Tresco, but also concerns life on Mustique in St Vincent and the Grenadines. Both islands are privately owned and both thrive on hosting guests during the holiday seasons. These islands are also home to collaborators - for instance the team who run Tresco, and Lotty Bunbury the founder, brand owner and creative director of our resort wear label 'Pink House Mustique'. This is a little about her life on a private island in the Caribbean and how our collaboration came about.
In 1992 the British Medical Journal put out an advertisement: "Doctor needed on small private island for one year." Lotty's husband, Michael, had been a doctor in the British army for 7 years before travelling in Africa, so his combined previous experience suited the job well as a solo doctor on a remote island. 30 years later they are still living on Mustique having brought up 4 children there too. Lotty says that although the little island lifestyle may not have suited everyone, for them it is the perfect life.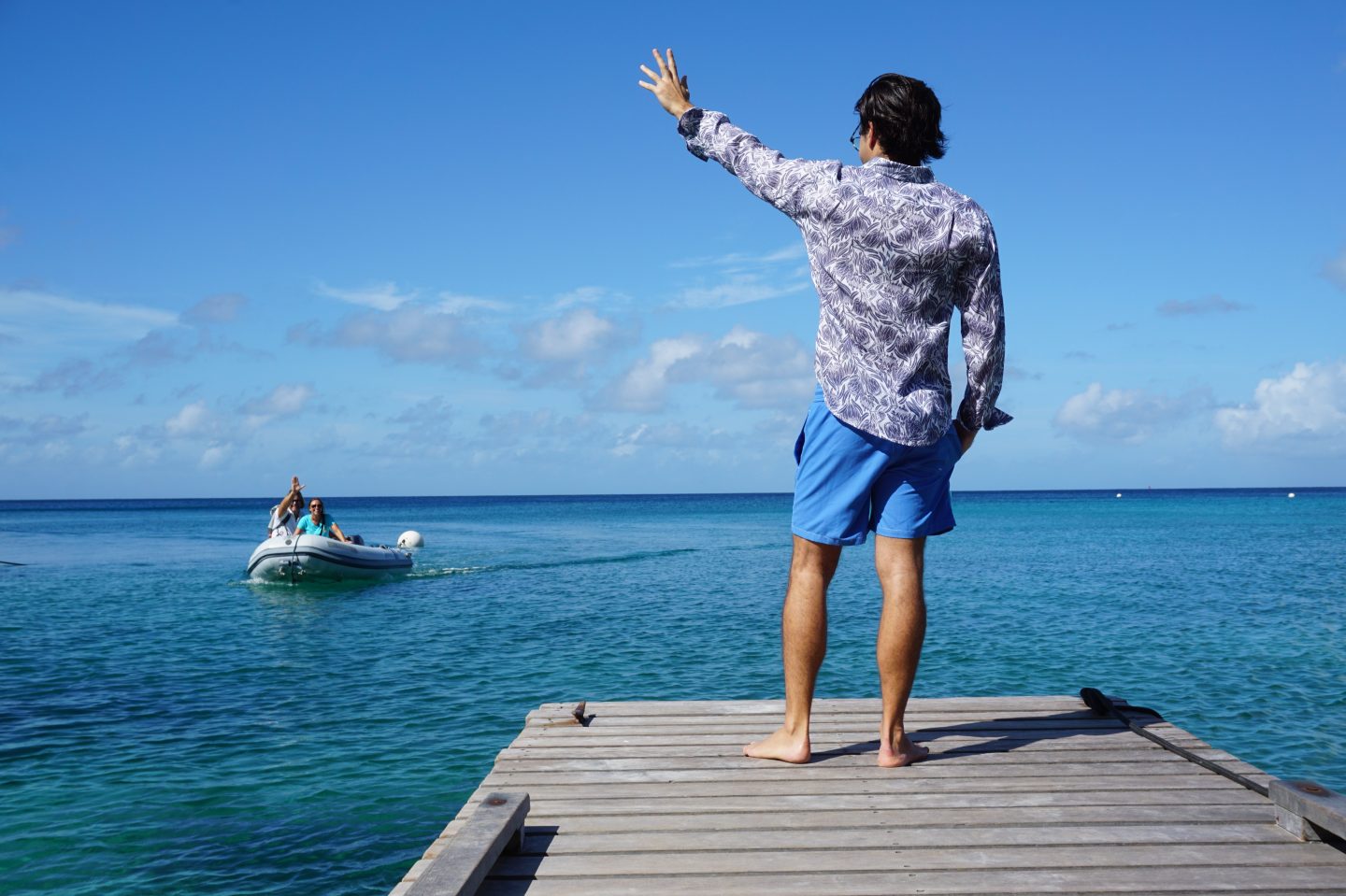 Lotty studied at Chelsea Art School as a stained glass artist and when they left for Mustique, she took silk and silk paints with her and soon started painting silk sarongs, hand hemming them and selling them at island craft events. This led to Lotty making bespoke kaftans from the hand painted sarongs and couriering to customers in the US.
Kindness and encouragement from influential friends in the fashion business helped to build Lotty's confidence and in 2008, when the little gingerbread shop came up for rent she took the plunge. She called it "Pink House" obviously! It is a beautiful and iconic island treasure and, along with Basil's Bar, must be the most photographed building on Mustique.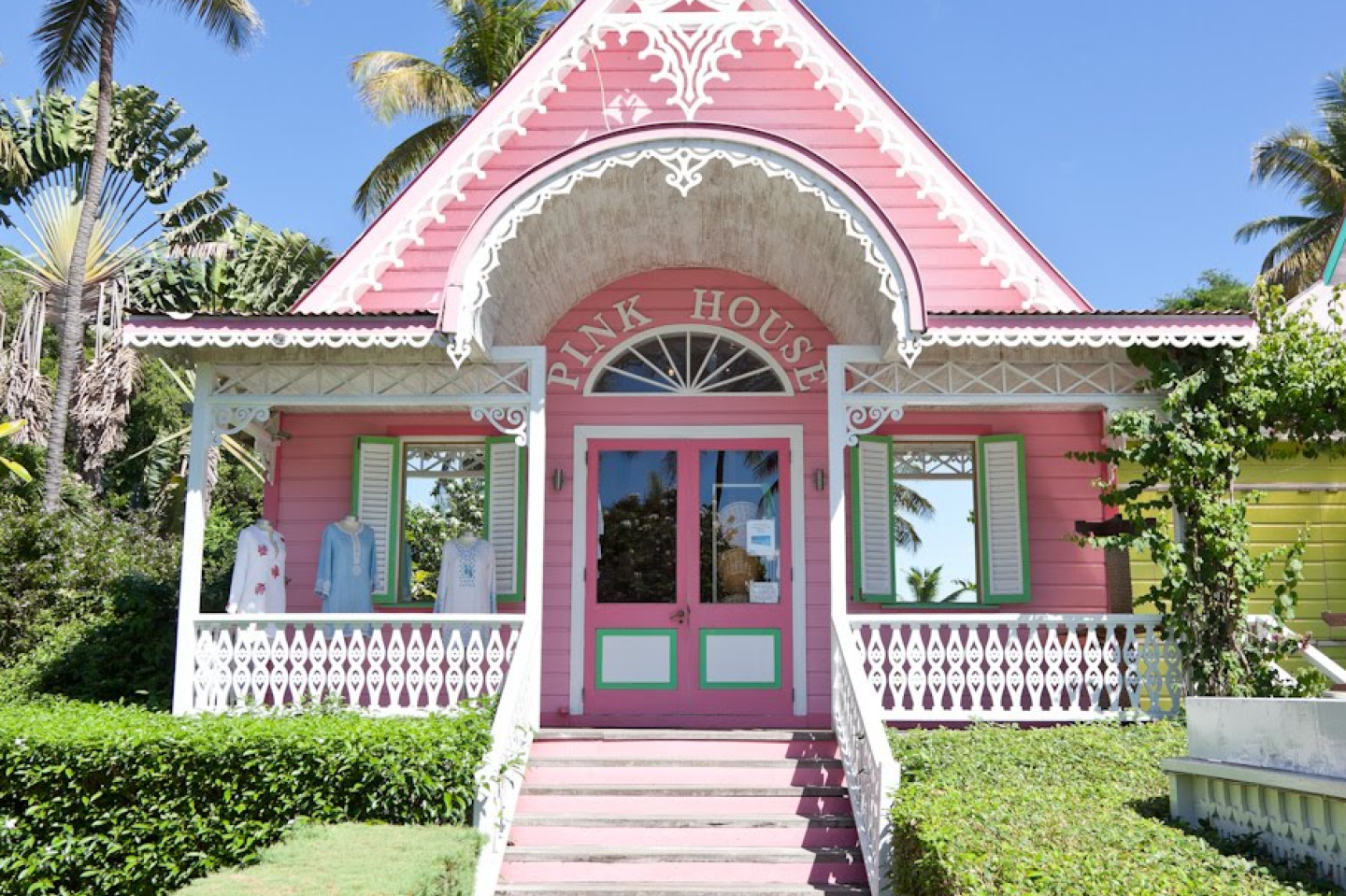 "Mustique is my muse and, because I live here almost all year round, nearly everything I design is inspired by the island. I walk most days, usually off the beaten track along the coastal pathways and I am continually fascinated and enthused by the stunning colours and combinations of colours, or the shape of a leaf or an insect. I often bring a plant home that has captured my interest and I sketch it, then paint it and sometimes I take it to the next stage, which is to simplify it and make a repeat pattern. I am constantly building up the design and then simplifying it depending on what it is for."

Lotty Bunbury
We have been collaborating with the Tresco estate for some years now as our island style is perfect for their aesthetic and we were delighted when Lotty was asked to come up with a print representing Tresco - something that was true to the heart and soul of the island. Generations of the Dorrien Smith family, up until the present day, have introduced new plants from across the globe and in 1955 Tom Dorrien Smith brought the fabulous Proteas from South Africa back home to Tresco.
Lotty B's print "Protea" was inspired by the King Proteas found on Tresco. The photograph below was taken by Mike Nelhams who, until recently, was Head Gardener for very many years. During his early tenure he had to cope with the extremely rare icy weather of January 1987 which destroyed much of the garden swiftly followed by the dreadful hurricane of January 1990. The replanting that followed included the Proteas, by now a stalwart in the Tresco landscape. From this, Lotty created this original artwork (below) which she then transformed into a screen print.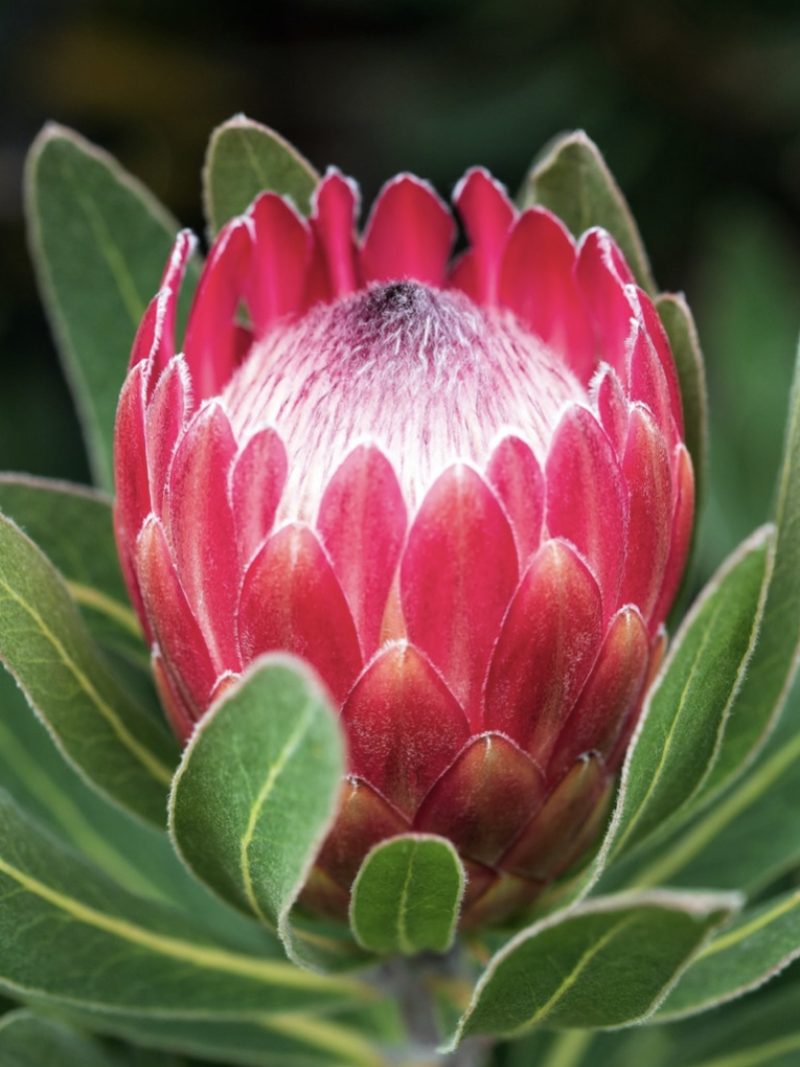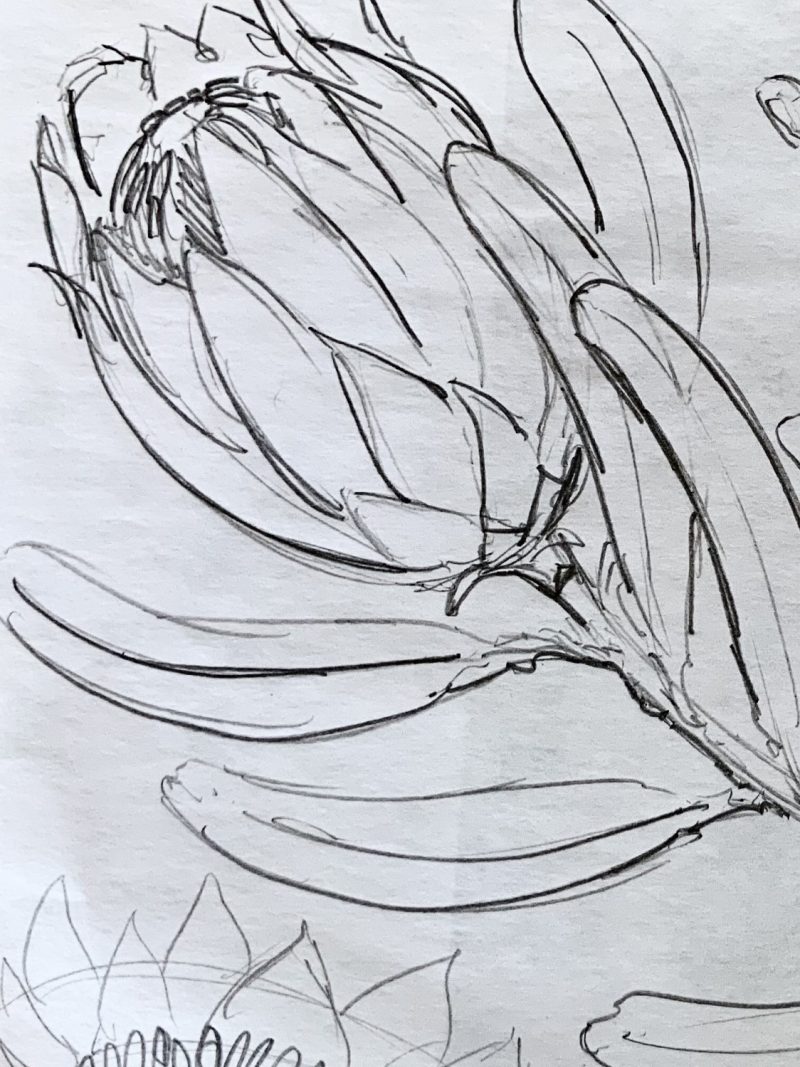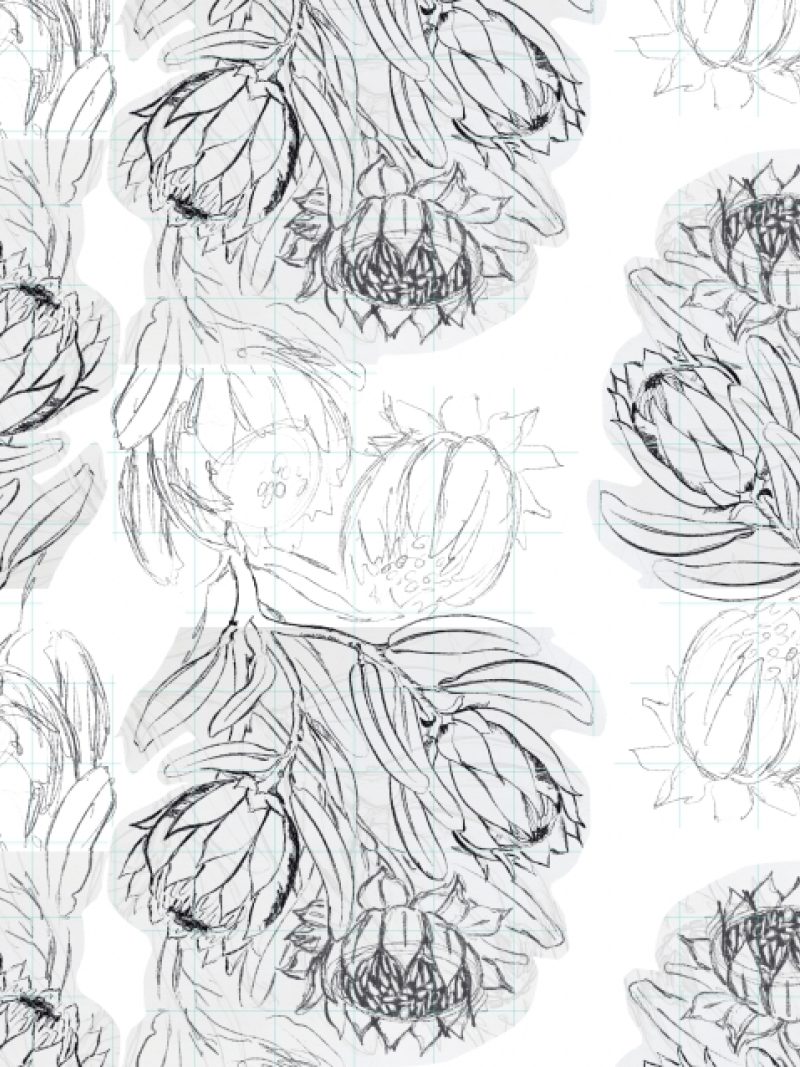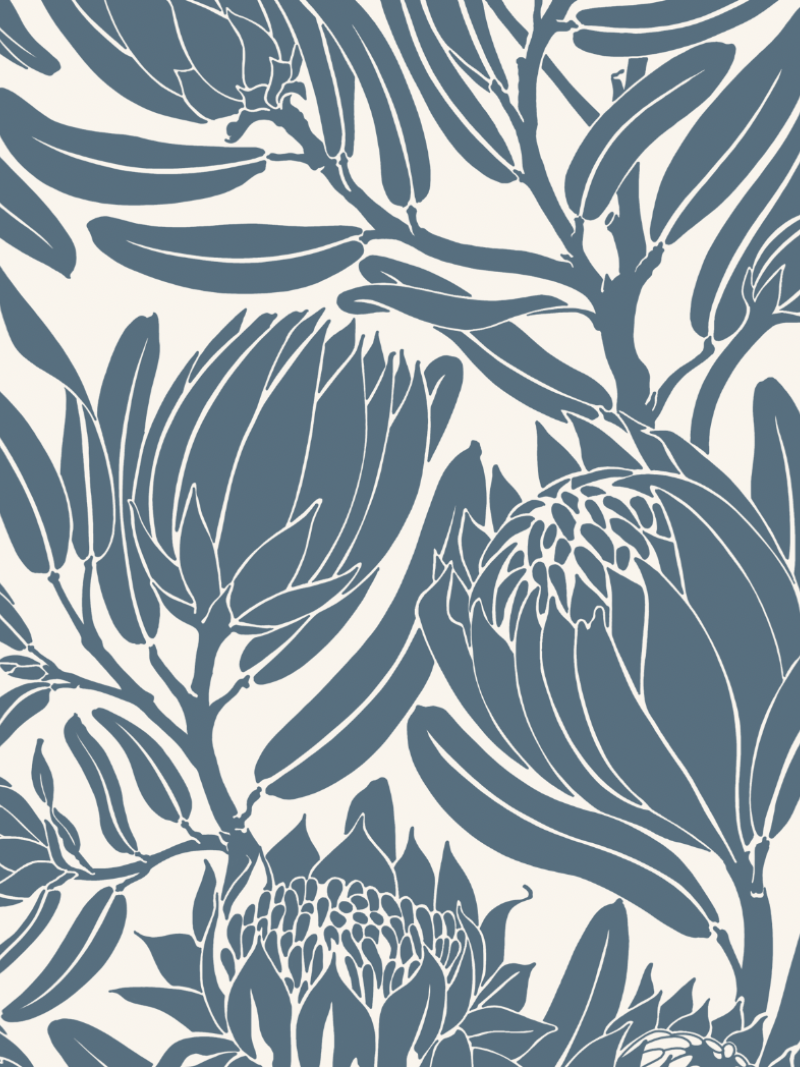 You can see how fabulous this popular Protea print works on Pink House Mustique's classic linen shirts and dresses. The colours now include green and also aubergine and we hope that you will love them.
They are all available in Tresco's island-inspired Lucy-Tania boutique. Head there to see the beautiful prints, patterns and colours on offer.