Helen & Jason Newton: 'Our Most Amazing Christmas'
In 2021 - after a couple of years of not being able to go away anywhere - Helen and Jason decided that they deserved a treat, so they booked themselves in for a Tresco Christmas!
We've always loved Tresco and have visited several times, both to stay and on day trips from St Mary's, so it was the perfect Christmas location for us.

As there was only the two of us and Burford, our Border Terrier(!), we wanted one of the smaller cottages, but we also wanted to be as close to the beach as possible. Understandably, not all the properties can accommodate dogs, but we were lucky and booked Just Home which was right on the beach at Old Grimsby.

We travelled to St Mary's by Skybus from Lands End and then transferred to Tresco by boat: arranged for us by the Tresco Boats team.

Transported to Just Home by buggy from the quay, the cottage was just wonderful. It was so comfortable and cosy, with a log-burning fire and views over the bay. All we had to do was open the French doors, walk down a few steps, and we were stood on the beautiful white sand we'd been so desperately looking forward to.

It really was a home from home and exactly what we wanted; it had absolutely everything we could have needed and more besides. As soon as we arrived, we placed a couple of comfy chairs by the French doors so that we could look out over the bay and relax with a cup of coffee - we'd arrived in heaven!!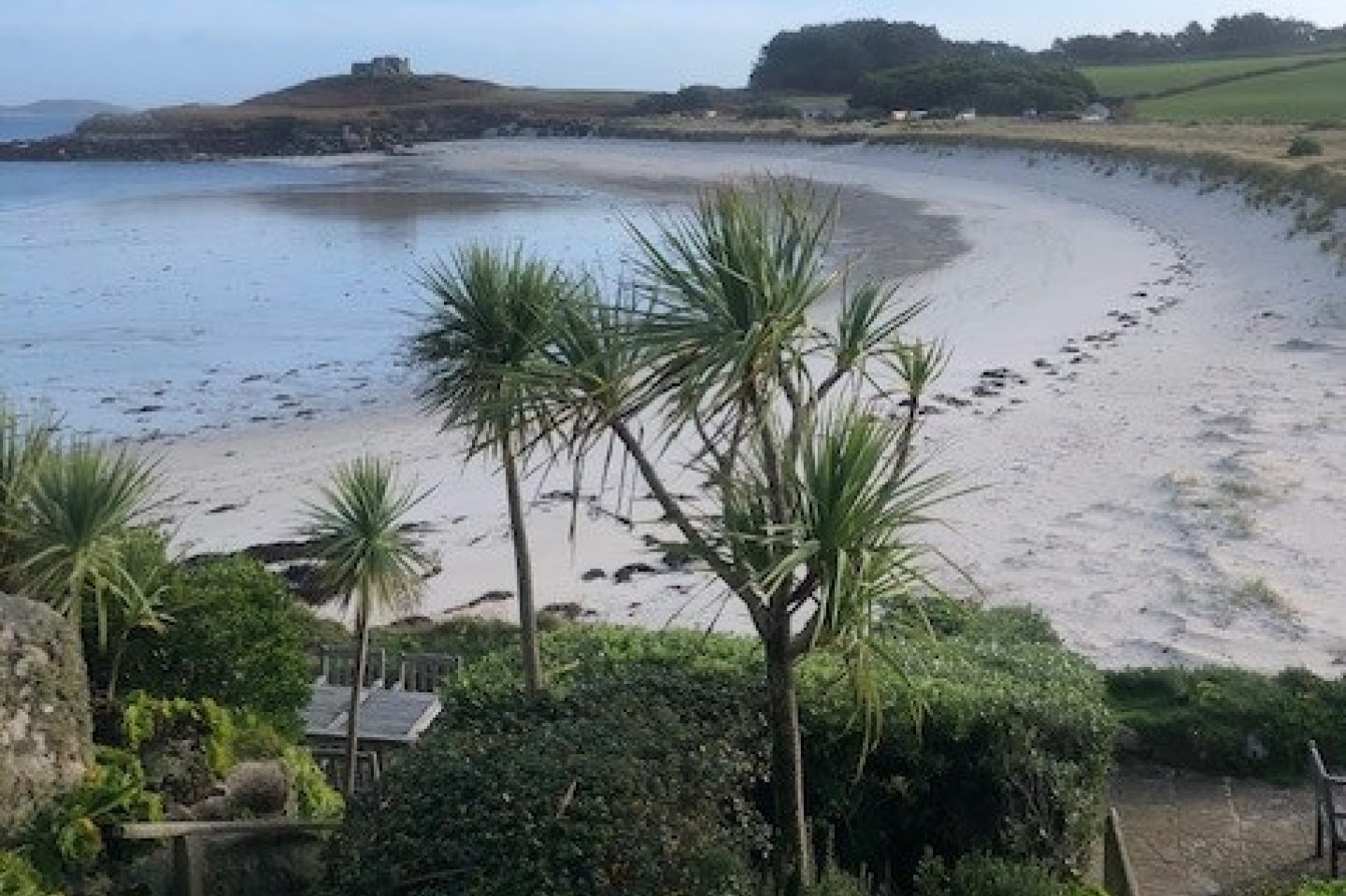 Over the next few days, we walked and walked and walked, exploring the island from East to West, North to South, and everywhere in between. Except for one day, when it poured down, the weather was glorious. But even the rain didn't stop us from getting out and enjoying this amazing island… there is no such thing as bad weather, just the wrong clothing!
Jason is a keen runner and soon found some great run routes on the island, which subsequently became our daily walking routes! Not only that but what started off as just a one-off 'Christmas Day Swim' became a regular thing, with his daily run subsequently finishing up with an open water swim in the bay.
During our stay, we had complimentary access to the Abbey Gardens - and Jason is a keen plantsman, so we visited pretty much every other day. The microclimate on the island and in the garden makes for an almost tropical feel; combined with the great weather, turquoise blue sea and white, sugar-like sand, it would have been easy to think we were in the Caribbean!
Everybody we encountered on Tresco was so wonderfully friendly, and we started to feel like locals very quickly. Burford even became a local celebrity, largely due to our photos and posts on his Instagram page. Staying at Old Grimsby - and with the New Inn being closed for refurbishment - we became regular visitors to the Ruin Beach Cafe and even had our own table by the window! The staff there were so welcoming, the food was phenomenal, and we had the most amazing Christmas dinner there on Christmas Day!
Courtesy of The Flying Boat Café, we also discovered Scillonian Tattie Cake for the first time. If you haven't tried it, you absolutely must! (And if you can find a recipe, please let me know!) It's become a firm favourite with us now, and even become quite an obsession as we have to have some every time we visit Scilly.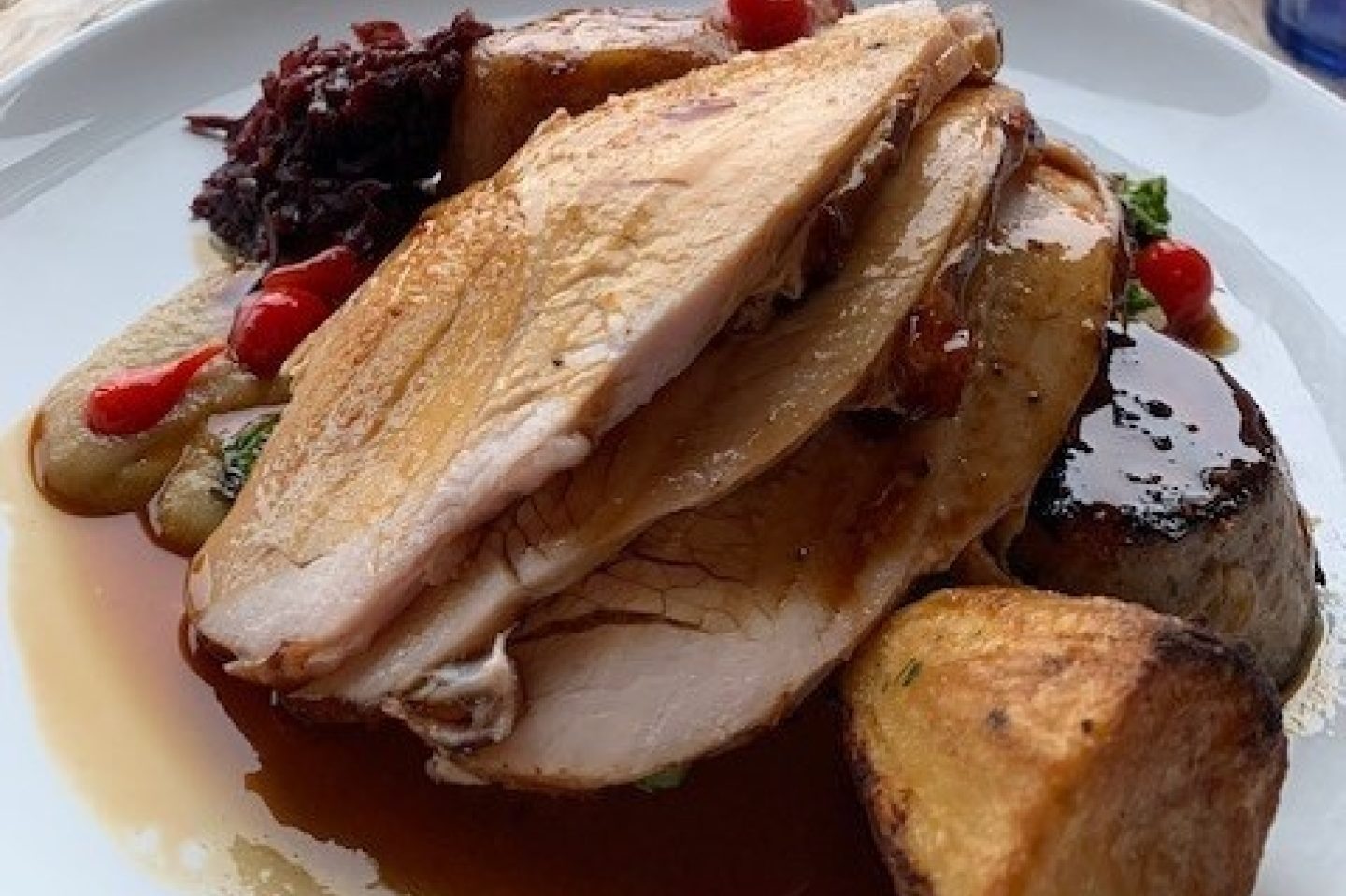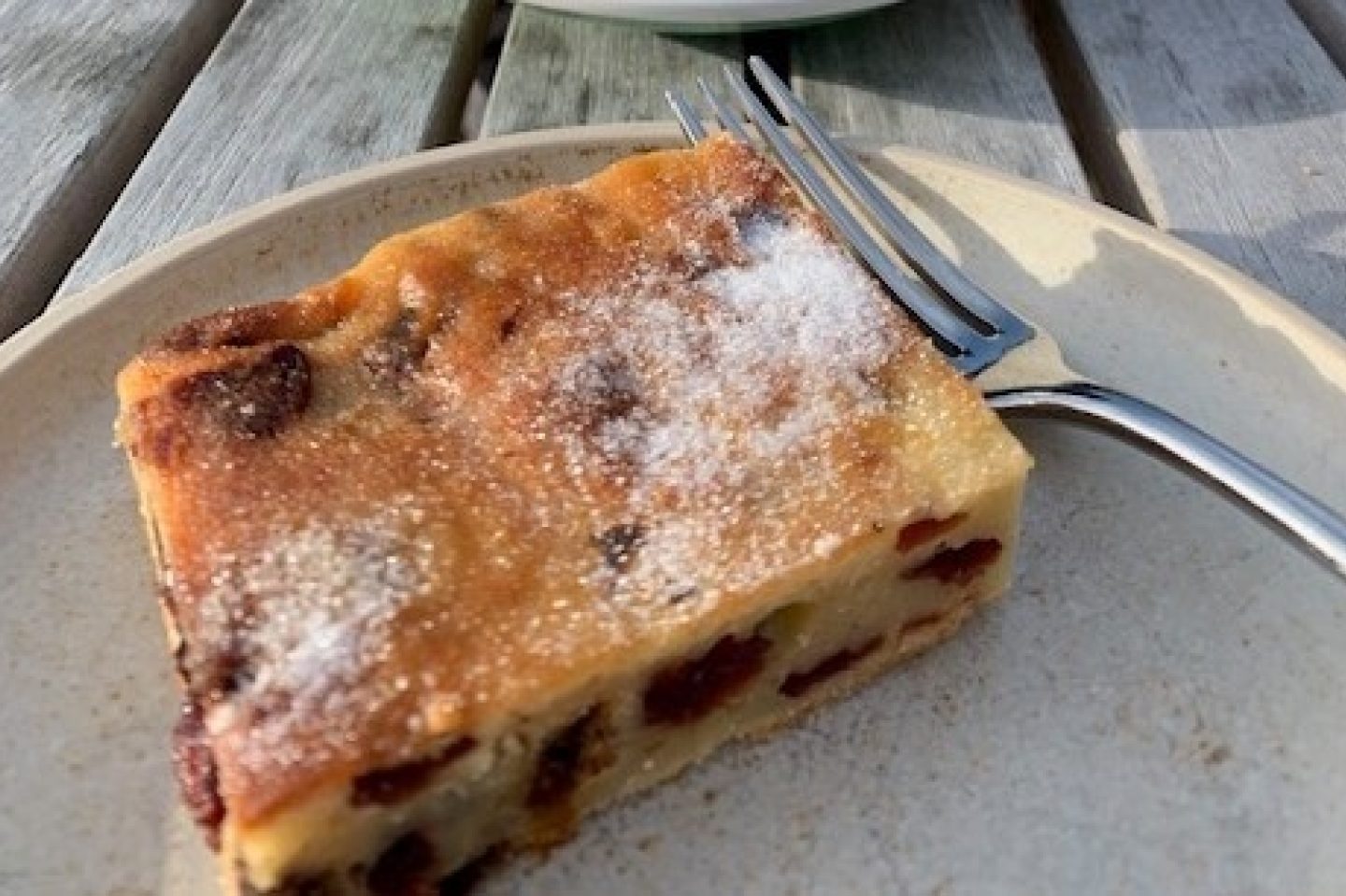 Sadly, on 29 December, we packed our bags and headed back to the airport on St Mary's for our flight home. When we checked in at the airport, we were told that it was unlikely we'd be flying that day due to bad weather and heavy fog at Lands End. When all flights for the day were cancelled, it was uncertain whether we'd be able to fly the next day or even the day after that, either, due to the forecast. Because of the New Year bank holiday and because we couldn't take the helicopter as we had Burford with us, we wouldn't be able to get a flight home until 3 January!
Try as we might, we couldn't find any available and flexible accommodation on St Mary's to tide us over. Our only option was to get back in touch with the Tresco Island Office to see if they could help. Needless to say, the team couldn't have been more helpful! They arranged a boat for us to get back over to Tresco and subsequent accommodation in one of the Sea Garden Apartments, which were held back for just such a situation.

How devastated do you think we were to have to spend another five nights on Tresco?! And not only that but to have to spend New Year there too! Well, as you might expect, we survived the ordeal! In fact, we absolutely loved the ordeal! We booked to stay for Christmas 2022 before we'd even left the island!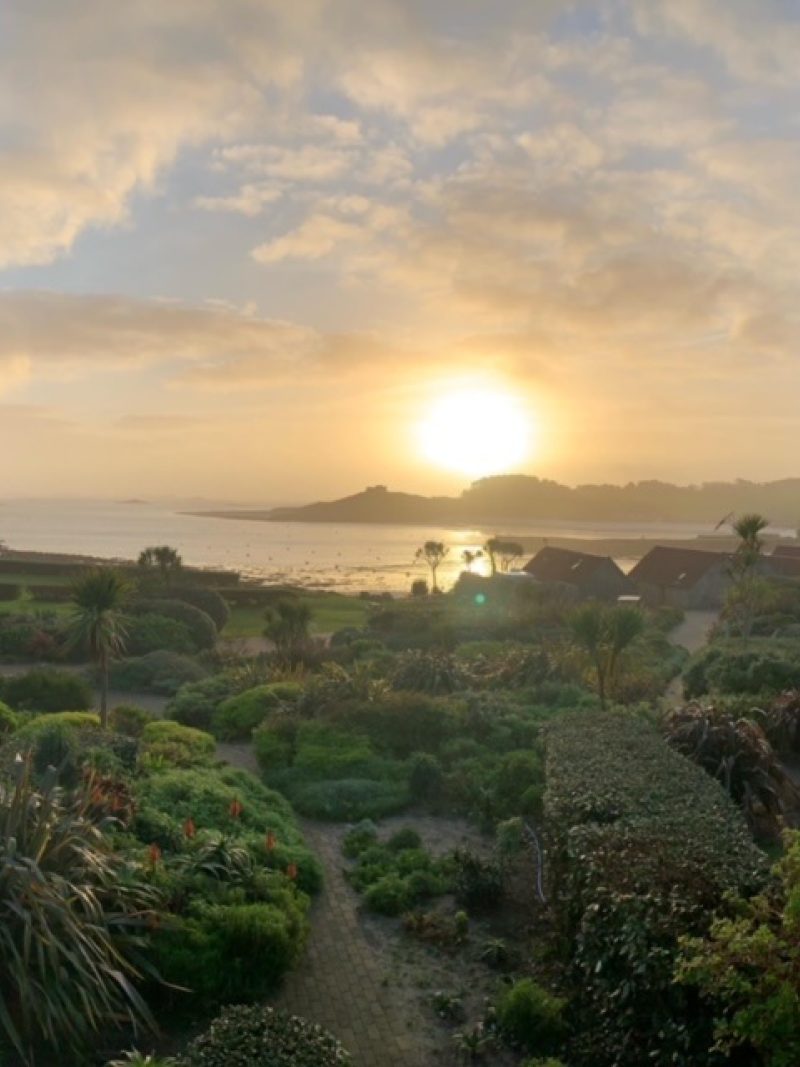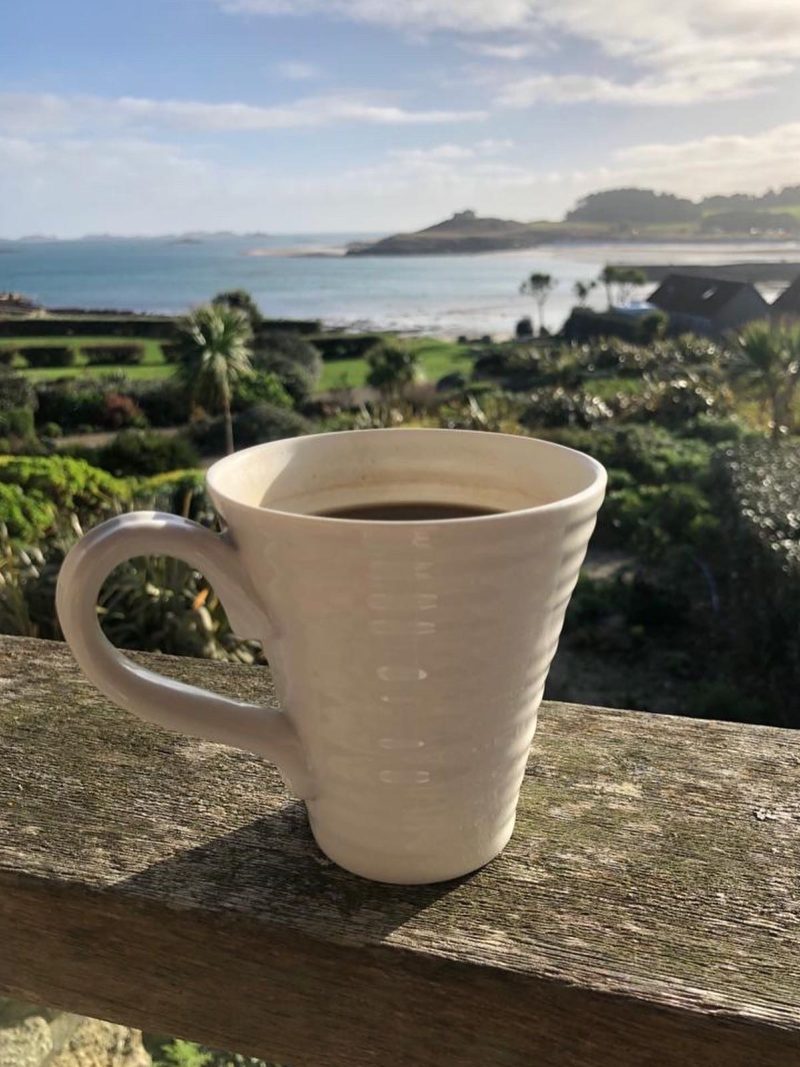 Normally we're pleased to return home after a holiday as it's always nice to be away but lovely to return to home comforts. However, this time we didn't want to leave! We were so sad when flights resumed on 3rd January, and we were able to travel home.
Since we've returned home, we've added another Border Terrier to our family and with our propensity to name pets after special places, what else could we call her than Tresco?!
She had her first visit to the island in October when we visited for the day (whilst staying for a week on St Mary's), and we can't wait to take her back again and again. Who needs to travel abroad when you can holiday on Tresco… not us!
Thank you to Ruth and all the team on Tresco. We'll never ever forget your kindness and our amazing Christmas on your idyllic island. We're counting down the days to Christmas 2023, when we can see you all again!
Helen and Jason Newton
P.S. If you'd like to catch up with Burford and Tresco's antics on Instagram or Facebook, you'll find them at @burfordandtresco