Tresco goes to Chelsea
If you were at Chelsea Flower Show last month, did you catch a glimpse of Tresco?
If you were at Chelsea Flower Show last month, you may have noticed that Tresco had a small part to play. We are proud to say that flora from our very own Abbey Garden – notably our iconic Protea - was on display alongside the other spectacular floral exhibits at the show.

This opportunity came about thanks to Lucy Tania manager and avid beekeeper Jilly Halliday. She, alongside Mike Nelhams – Garden curator at large - teamed up with Salcombe based maker Will Bees Beespoke and designer Emma Mawston to create fabrics inspired by beautiful gardens across Britain: from Tresco in the most south westerly part of the UK, to the Scottish Highlands National Garden at the other end of the country. Each of the 24 gardens participating chose a flower to represent their environment and – most importantly – the bees it attracts.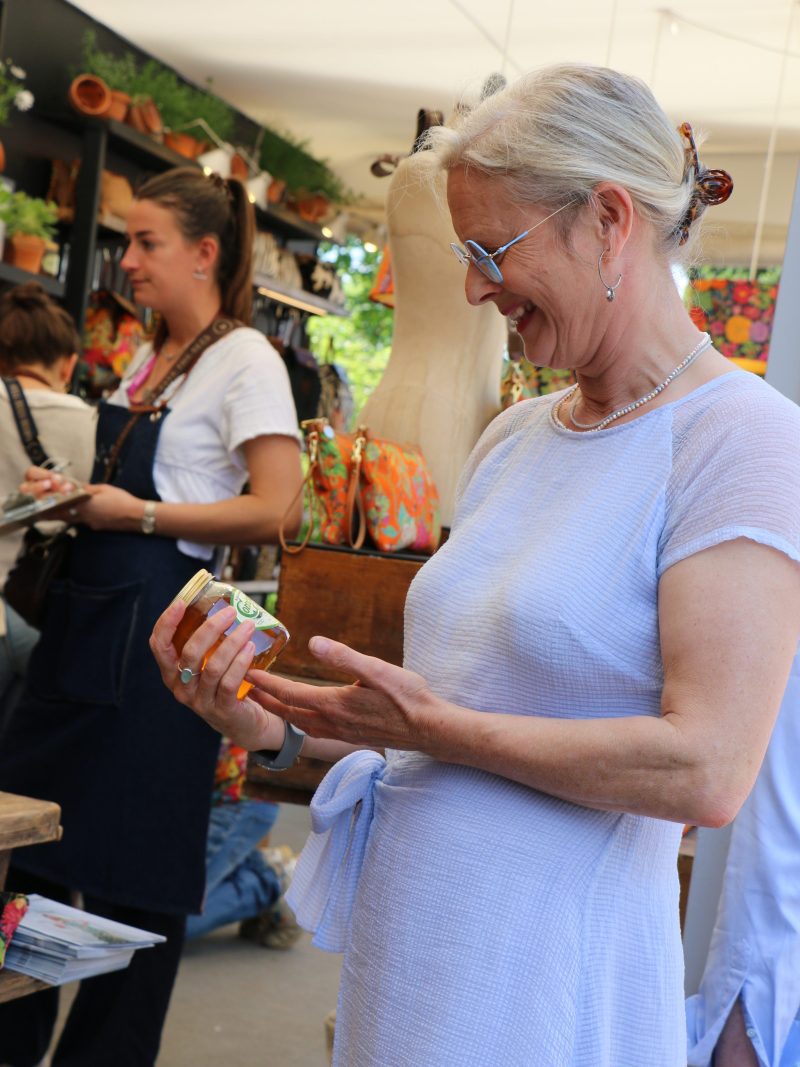 The project is called BEE STORY and is in collaboration with The Bumblebee Conservation Trust as well as all 24 gardens. As such, Will Bees Bespoke aims to be a print house with stunning, hand crafted original designs that also raise awareness and support environmental and ecological plights with a special connection to bees.
"Bee Story is a pollinator novel in pictures encouraging people to cover the country more and more each year with plants in fields, gardens, balconies, allotments, window boxes and pots bursting with flora loved by these glorious and endangered species, not just in the name of beauty but of survival."

Emma Mawston, Textile designer
Our chosen flowers were the Agapanthus and Protea as both species thrive all over Tresco. The nutrient requirements of the Protea work perfectly in tandem with the soil, which is low in phosphates, and Agapanthus is a self-seeder which grows in hundreds of thousands around the island. Both flowers are loved by bumblebees and offer pollen and nectar. In fact, the Protea literally drips with nectar from the stamen giving it the name 'sugar bush'.
Moreover, it has been proven that bees are more attracted to blue and purple hues such as those of the Agapanthus, making it a popular pollination destination. It is also fascinating to note that colour vision in bees is the speediest in the animal kingdom and is five times faster than humans.
We are so honoured two of our most beloved island plants are part of this beautiful collection with such a powerful message. Donations from the sale of BEE STORY will be given to The Bumblebee Conservation Trust - an organisation that works to raise the awareness of the plight of bumblebees among the general public, as well as working with landowners, policy makers and other interested parties.
If you were at the Chelsea show, we hope you saw our plants, flowers and Tresco honey bee honeycomb. If not, you can still get a taste of what was on display by checking out the collection and carrying a colourful piece of Tresco with you wherever you go…