Pentle House
Tucked amongst the trees you could almost miss it. Peaceful Pentle is ensconced in nature – perfect for getting away from it all.
At A Glance
Location

Countryside

Sleeps

8 people

View

Peaceful, secluded countryside outlooks

Change Over

Friday
The Cottage
This woodland hideaway boasts a roomy, open-plan kitchen and dining room with romantic country views. Ascend the hidden staircase from the kitchen to find the upstairs bedrooms and a family bathroom. The lounge is cosy and inviting, with windows fringed with greenery. Tucked away downstairs is an ensuite master bedroom.

The garden is a green leafy haven – you might struggle to tear yourself away from its solitude and explore the rest of the island.
Our Favourite Thing
The statuesque Norfolk Island pine which has become the focal point of the garden.
Property Details
Bedrooms
1 x double

3 x twins
(zip-linked beds can be reconfigured with advance noticed)
Heating
Log burning stove in lounge, electric wall heaters in all rooms.
Includes
Entry to Tresco Abbey Garden, Sea Garden & Tresco Island Spa facilities, Tresco tennis courts and Golf on St Mary's throughout your stay
On the Doorstep
Pentle is located in a quiet, rural spot, with central island amenities approximately 15 minutes away on foot.
Facilities
Our cottages are well-equipped with a comprehensive inventory, which includes kitchen appliances and equipment, bathrobes, hair dryers, and an outdoor BBQ with tools. Bathrooms come complete with a trio of Ren miniatures.
This property comes equipped with a dishwasher. There is no washing machine at the property, however laundry facilities are available centrally with a small cost payable per load.
Very comfortable, well equipped, fantastic garden, lovely seclusion.

The Rowes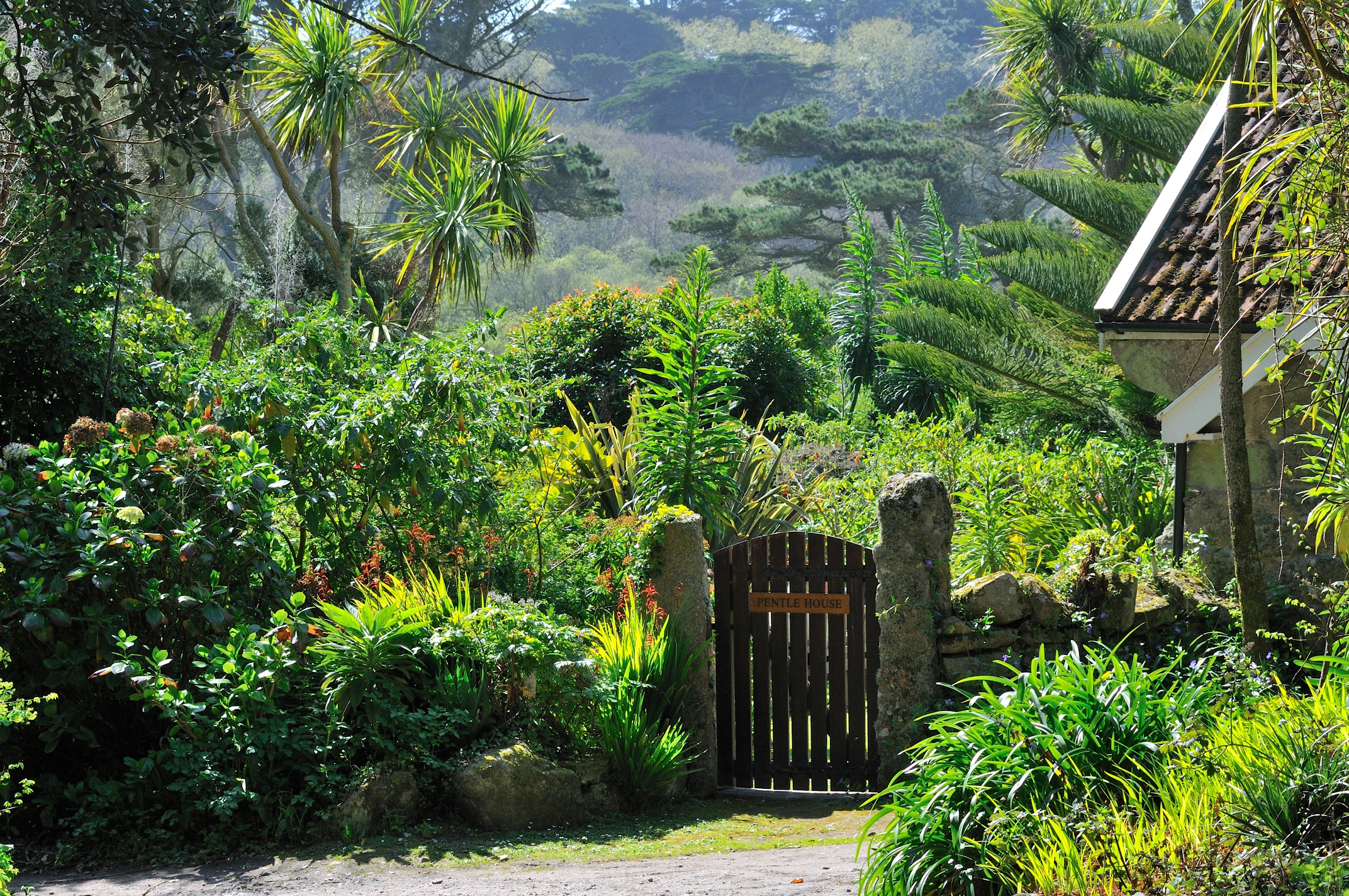 The Location
Pentle's rural surroundings make it perfect for those wanting a quiet escape. Tresco's longest beach and the cottage's namesake, Pentle Bay, is under five minutes away – spend days shell-hunting and picnicking on its golden sands.

The Abbey Garden is a short stroll or an even shorter cycle from the cottage gates, whether you're looking to explore its well-populated terraces or just stop at the Visitor Centre for a good cup of coffee.
Rental Availability
28 Oct-04 Nov 22

£2,030.00

17 Mar-24 Mar 23

£2,495.00

24 Mar-31 Mar 23

£2,495.00

21 Apr-28 Apr 23

£2,495.00

28 Apr-05 May 23

£2,495.00

05 May-12 May 23

£3,325.00

12 May-19 May 23

£3,325.00

15 Sept-22 Sept 23

£2,770.00

13 Oct-20 Oct 23

£2,135.00

27 Oct-03 Nov 23

£1,940.00

A glorious exception; a perennial Kew without the glass, home to thousands of exotic plants from around the world flourishing right here on the Isles of Scilly

From everyday essentials to the gourmet, our island Stores & Deli has all you need, whether you're here for the day, or a longer stay.

Enjoy the freedom of two wheels and a whole island to explore, with bicycle hire from Graham at the bike shed

Stay on Tresco

Find your perfect place to stay on Tresco, from rooms and apartments to self-catering countryside cottages and beachfront boltholes, all with Spa & Abbey Garden entry