Wild Swimming on Tresco
Gallery Tresco manager and wild swimming advocate Anna Parkes shares her favourite spots for a Tresco sea dip.
There are probably fairly few locations to rival Scilly when it comes to wild swimming spots – as for sheltered bays, pristine seas and soft, sandy beaches, we're spoilt for choice. Wild swimming is a popular pursuit amongst our island community, and Gallery Tresco manager Anna Parkes is one of the strongest advocates for ocean dips.

Anna is renowned for her wild swimming consistency, no matter what time of year, and champions the pursuit and the array of health benefits it affords. In fact, Anna became the first person to swim around the entire circumference of Tresco, an epic challenge documented on her blog.
Here, Anna shares her favourite spots and tips for wild swimming on Tresco.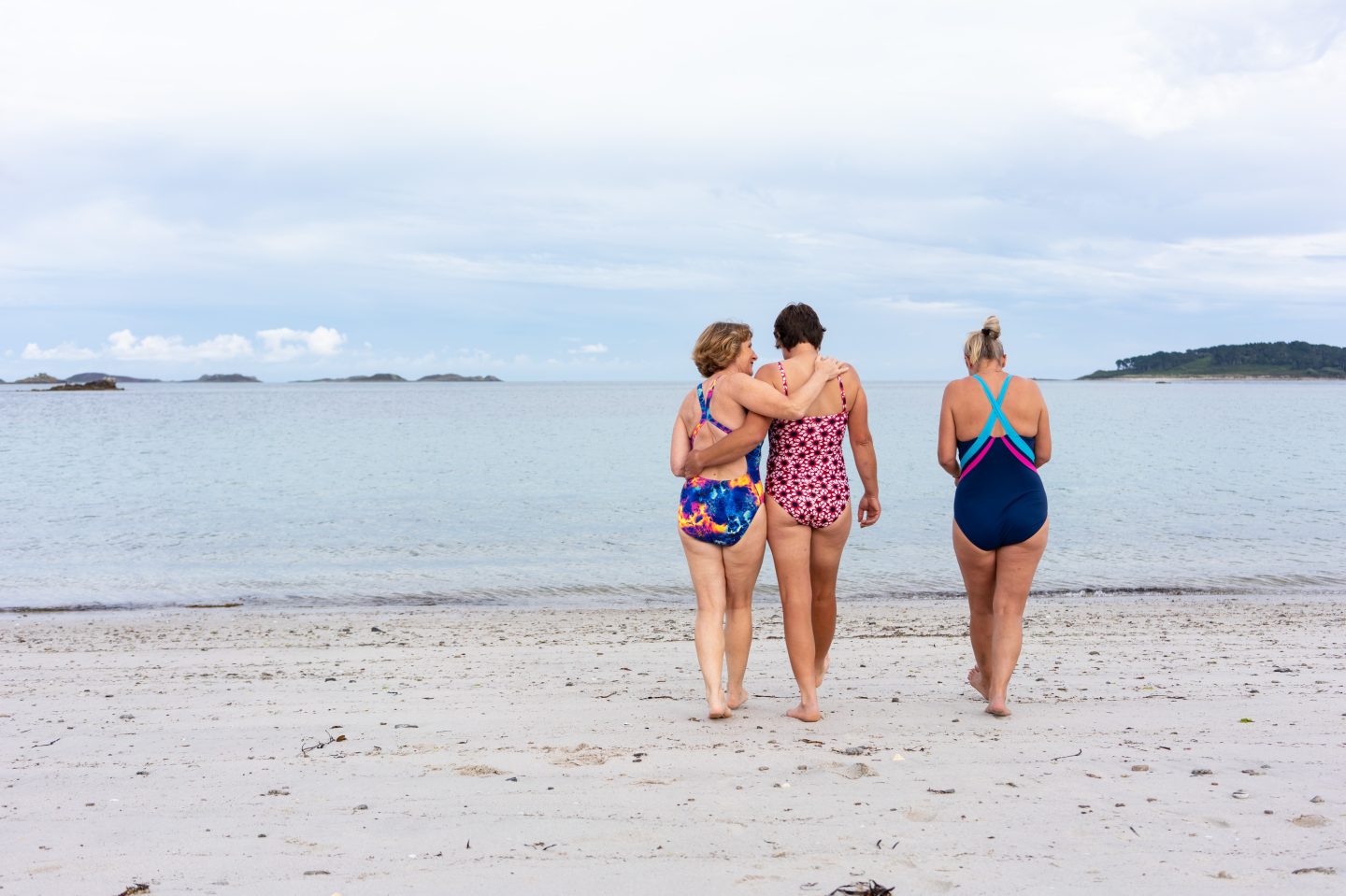 For me, 'wild' swimming is exactly that – feeling like you're out in the wild. As such, my best swims are solitary swims. With this in mind, I'm very aware of seeking out quiet yet safe spots to swim – as I'm generally alone and have cycled across the island to have my own little swimming adventure.

There are a few factors that I consider when finding a spot for my daily swims – the first is wind direction. The easiest way to gauge the wind direction is to find a coastal vantage point, and to look at which way the boats are pointing as they will always face into the wind. I'll then usually head into the opposite direction so that I can find a sheltered bay with a bit less chop.

Where possible I prefer to swim on a high tide – there's less ground to cover before you reach the sea, and it means you're not heading too far out into the channel to find enough water for a substantial swim. That being said, due to my work commitments I'll often swim first thing in the morning or early evening, which works well as even the 'busier' beaches are relatively quiet.
I tend not to swim on the more 'populated' beaches – for example I avoid New Grimsby beach as there are usually lots of boats around. If I'm ever in doubt e.g. if it's a little choppy, if I'm swimming further or if I turn up somewhere and there is boat traffic nearby, I use a tow-float to ensure I stay visible.

Other considerations that might help wild swimming newbies – some people swear by a late afternoon / evening swim once the tide has come in across flat sand, which has been warmed by the sun. It can make a difference to the water temperature if you struggle with the cold! Don't overdo it and stay in too long as you'll end up feeling cold – a rash vest or shorty wetsuit can help you acclimatise to initial dips.

Here are some of my favourite spots for wild swimming on Tresco: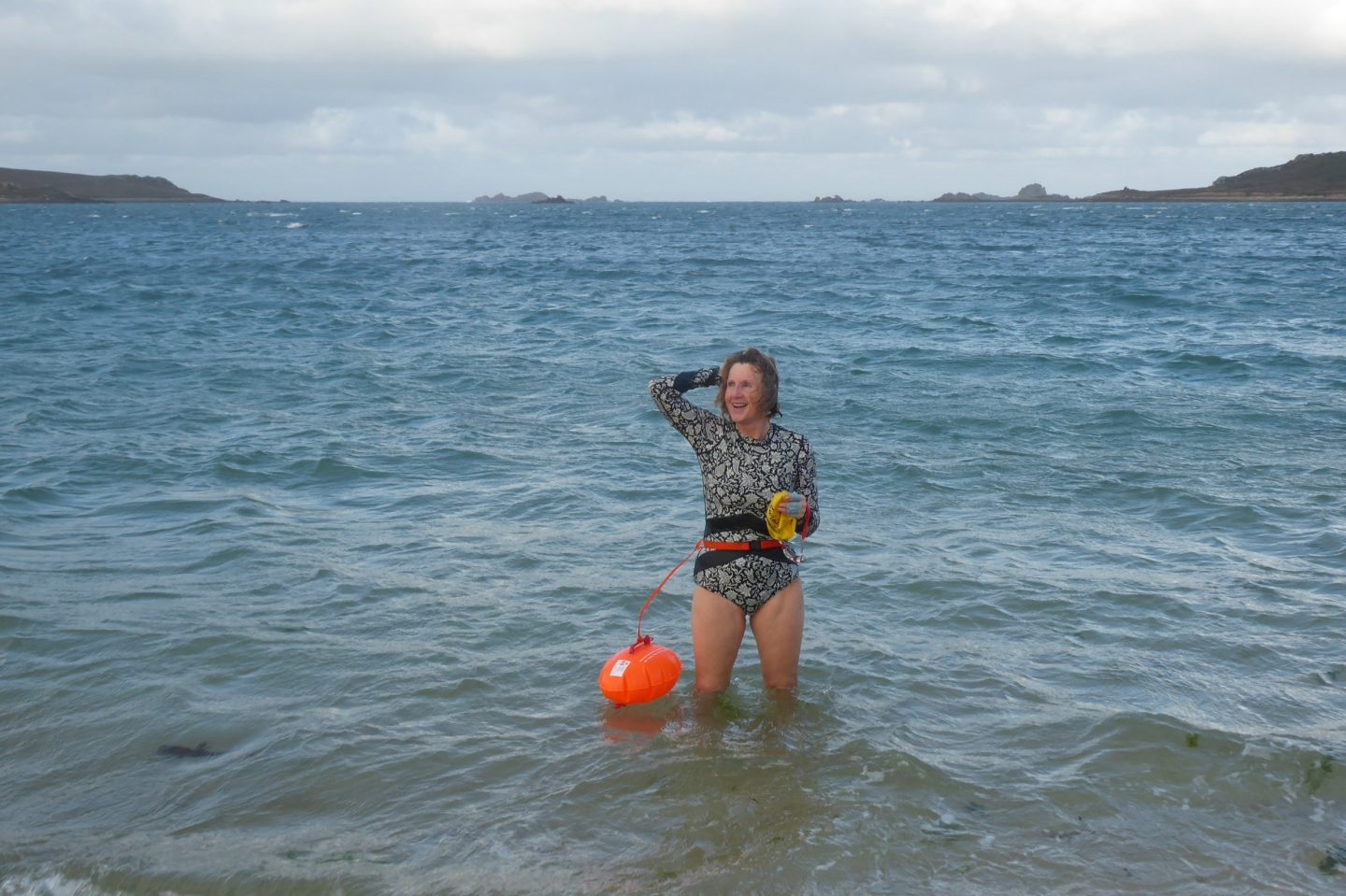 Cradle Porth
Despite living on Tresco for 43 years, it's taken me until now to joyfully discover Cradle Porth as what has to be my perfect wild swimming spot. It can be a little awkward to get to, but has so many other recommending factors it's worth the effort!

If you stand up at Blockhouse Castle looking out towards St. Martin's, the beach I know as Cook's Porth (or Blockhouse Beach) is directly below the castle, and Cradle Porth is one beach along to the right. You can either reach it by scrambling across the separating rocks, or walking the grassy coastal path along to a lovely bench, from where a steep path leads to the beach below.

It's an idyllic sandy cove and if you're lucky enough to find yourself alone there, it really feels like you have your own personal beach. There are no rocks apart from at either end – just uninterrupted turquoise sea, with clear vistas onto the sand below – perfect if you find swimming through seaweed a bit off-putting!

One thing I'd flag about swimming here is you'll want to stay 'tucked in' within the cove to swim, as a very strong current runs through the channel just beyond the bay. For this reason, it's probably best to swim here on higher tides, so that there's enough sea to keep in quite tight to the shore.

Aside from that it's a glorious, visual swim through clear waters, aside white sands, and with sublime views of yachts and islands in the distance.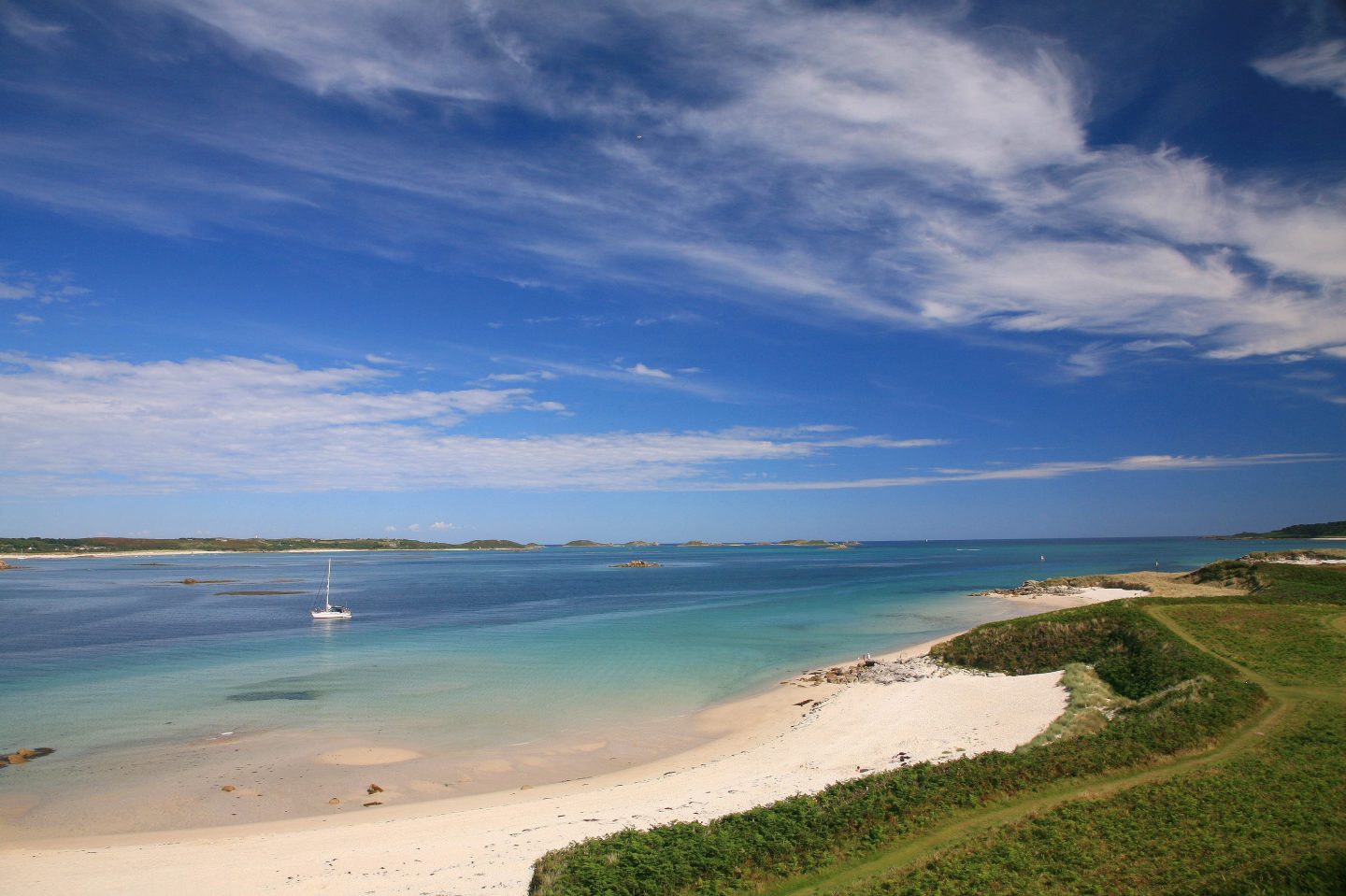 Appletree & Pentle Bay
These two beaches, generally popular for beach days and associated dips, are two that I rotate depending on wind direction. As they're on opposite sides of the island, they'll often tick the box when I'm looking for somewhere sheltered, especially on windier days.

In comparison to Cradle Porth, they will often be slightly busier and can be susceptible to a bit of boat traffic – they're real favourites in terms of Tresco beaches, so will often receive visitors coming from other islands on their own boats, mooring up in the shallows for the day. Again in this situation, if you're looking to enjoy a longer swim here I'd recommend using a tow float to stay visible.

Aside from this though, they're both lovely beaches to swim – a great length for those wanting to rack up a bit of distance as you can swim from one end of the beach to the other. Equally nice if you're just looking to splash about in the shallows, especially as the sand is soft underfoot, and there aren't too many rocks along the shoreline.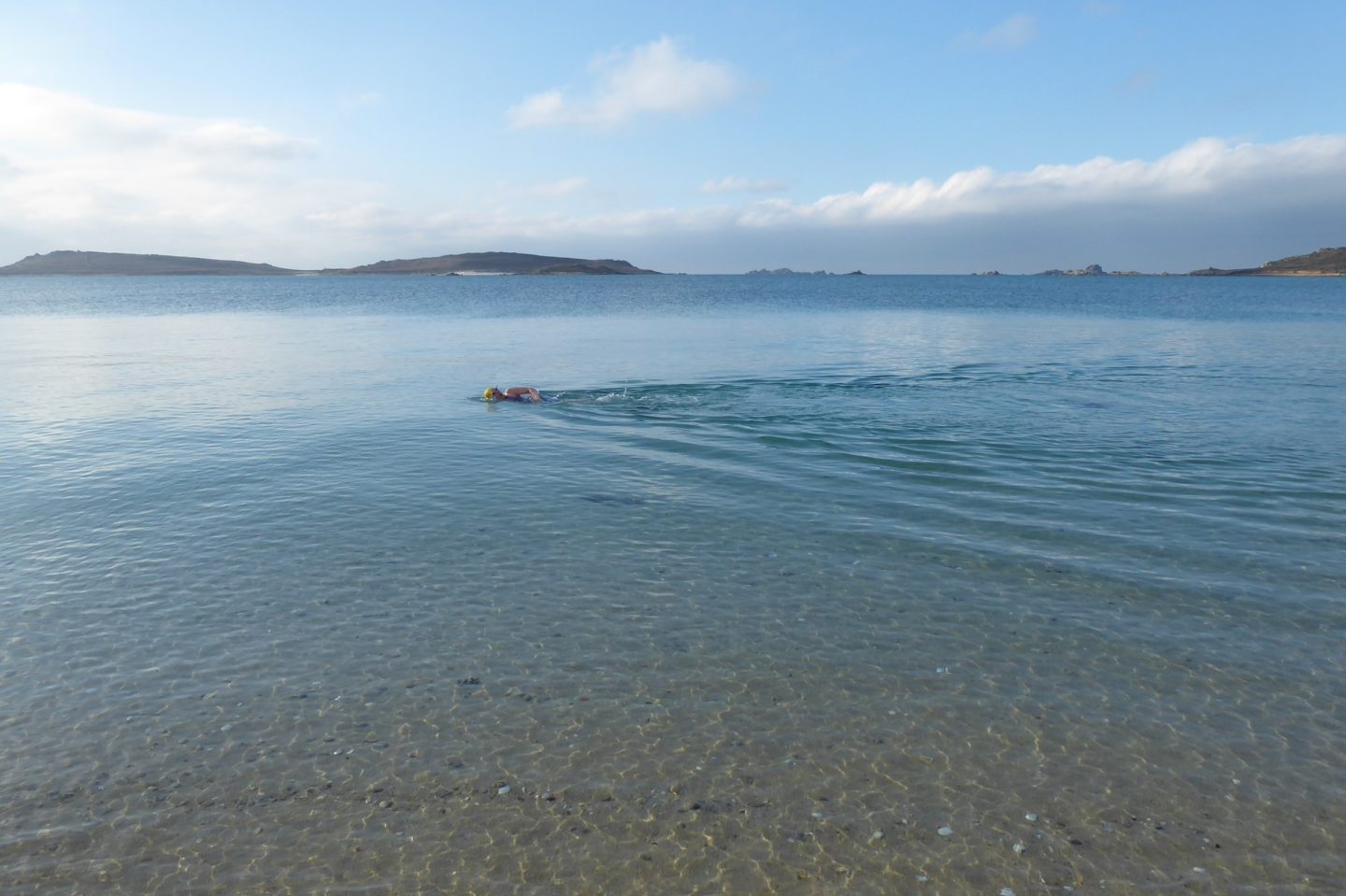 Green Porth
My final recommendation is Green Porth – it appears last on my list purely due to the fact that it can be a little busier than the others, but it's very convenient if you're staying at Old Grimsby, and you can certainly still have it to yourself depending on the time of year / day!

It's a lovely sheltered little beach with beautiful powdery soft sand, and again has very little rocks along the shoreline, making for an uninterrupted swim through clear shallows.

In the height of the season, it's worth being mindful of boat traffic, especially little tenders going to and from visiting yachts.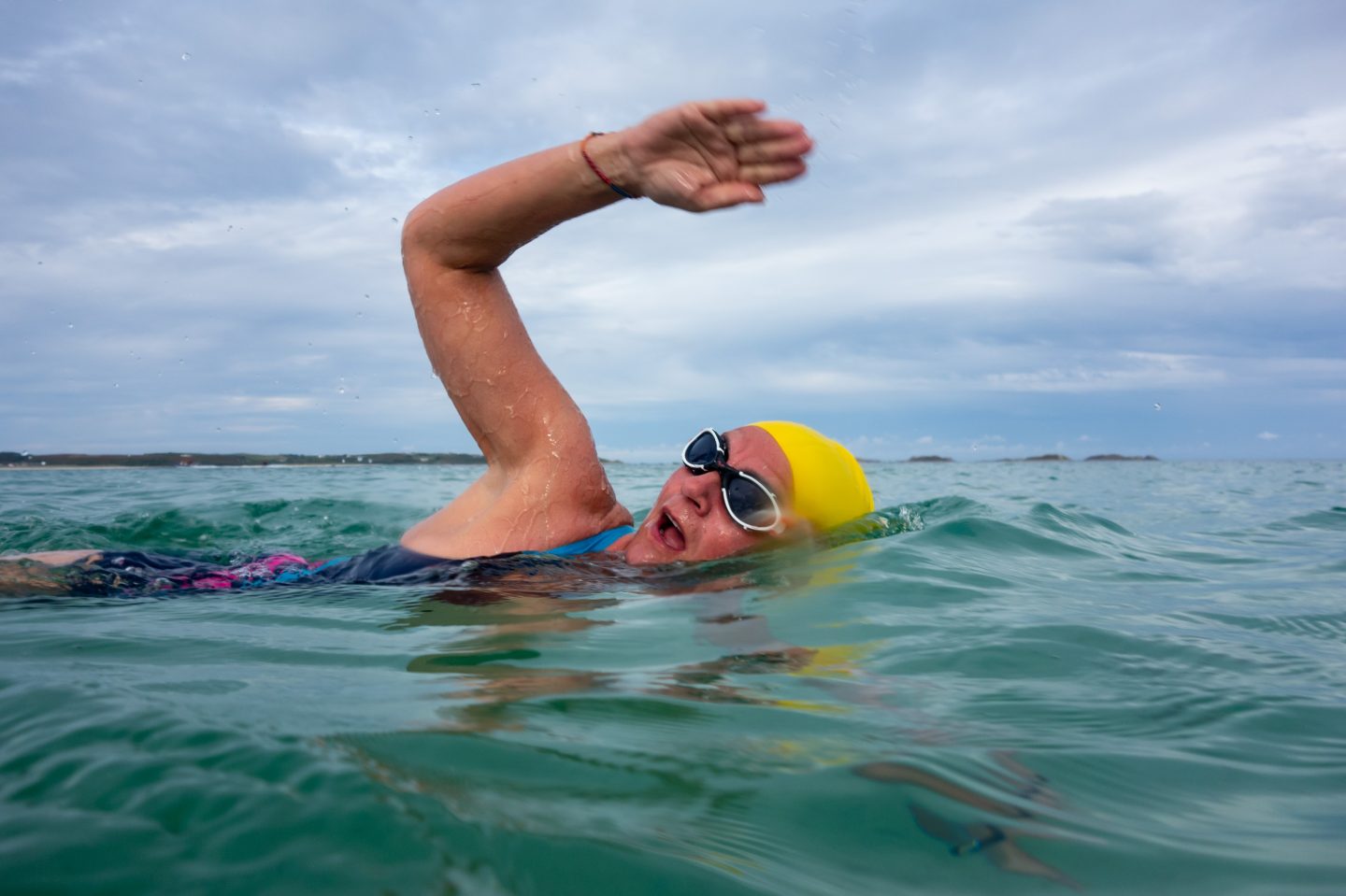 Keep Safe while Sea Swimming
Follow these tips compiled by our marine team to ensure you stay safe while wild swimming.

Check weather and tides
Never swim under the influence of alcohol
Be aware of the hazards of cold water shock
Wear a swim cap and use a tow float
Avoid swimming alone; if possible have a safety boat/kayak
If not, tell someone where you're going and what time you expect to return
Be mindful of your own level of experience and limitations on your ability
If in doubt, stay within your depth and close to the coastline
Avoid busy boating areas, main transit routes, harbours, quays and moorings
In an Emergency dial 999
We recommend checking these safe-swimming guidelines before embarking on wild swimming pursuits on the island.