Tarquin's Hell Bay Gin
When Tarquin, Head Distiller at Southwestern Distillery, asked Hell Bay Hotel if they wanted to create their own gin, you can imagine the decision didn't take long. Tarquin's Hell Bay Gin was born...
As its base, the spirit takes Tarquin's superbly crisp London Dry Gin. This exceptional spirit is crafted from fragrant hand-picked Devon violets, Cornish spring water and botanicals from across the world, including Kosovan juniper, Guatemalan cardamom and Madagascan cinnamon.
The gin is distilled using traditional techniques and old-fashioned equipment. The copper stills (named Tamara, Senara and Ferrara – try reeling those off after a few tastings) are fired by flame and judged by eye. Only the heart of the run makes it to the bottle. The botanicals are handpicked by sight and feel. Each bottle is filled, corked, sealed, labelled, numbered and waxed by hand, and – after a rigorous assessment (nice work if you can get it) – Tarquin handwrites his own batch tasting notes on every single bottle.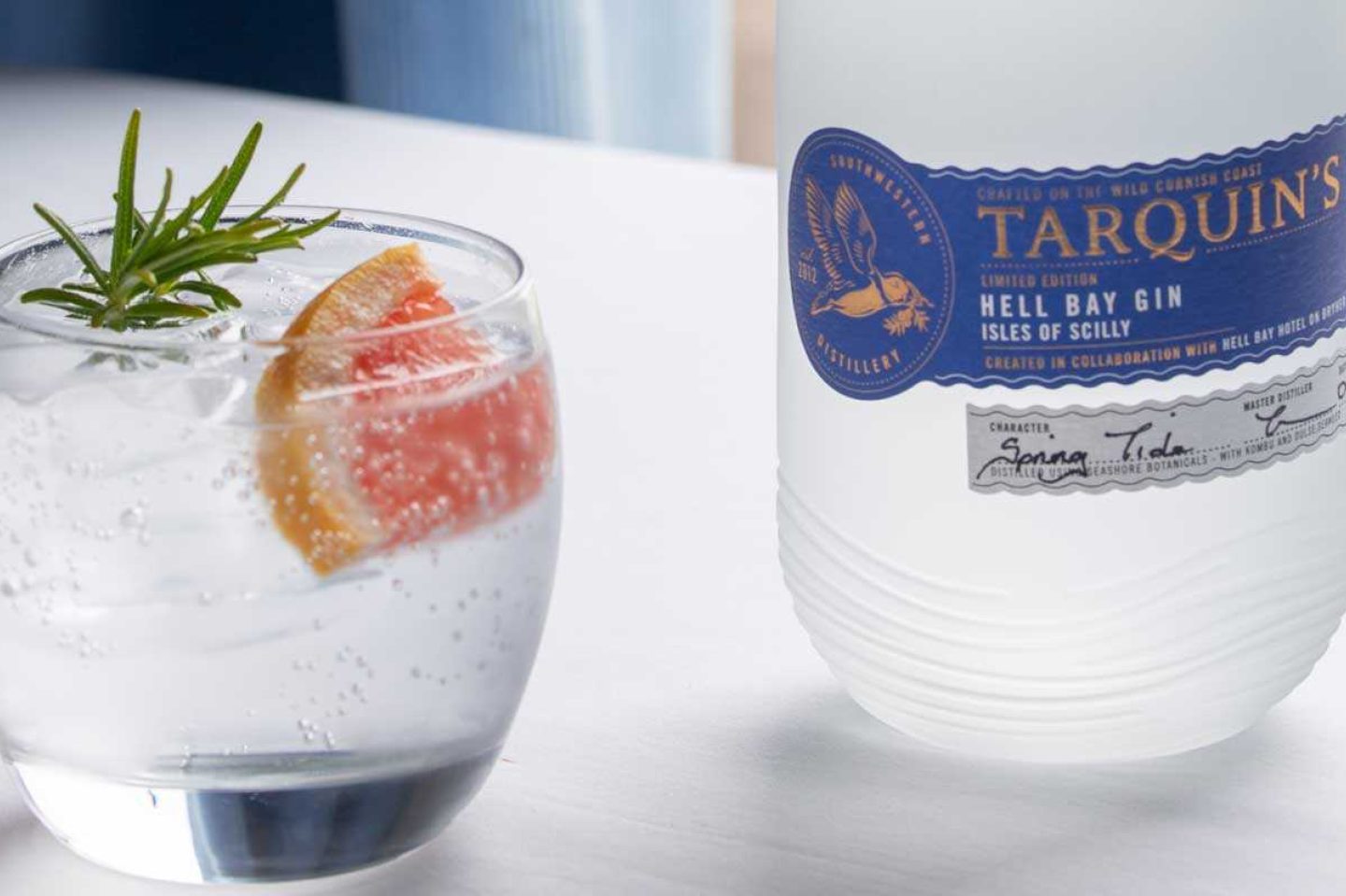 The Secret Ingredient
Coming from such a pedigree, what could possibly make Tarquin's Hell Bay Gin any better? The answer: one of the world's most unassuming and underrated superfoods: seaweed. Yes, it is this most humble of seashore botanicals – specifically locally foraged dulse and kombu – that lends our gin something truly unique.
The imbiber will not only benefit from a deliciously different gin but seaweed is, of course, one of the most powerful superfoods on the planet with the highest number of vitamins and minerals of any food group. So what are these superfoods that have extracted so much goodness from the ocean, ready to impart it so delicately into this superb spirit?
Kombu is a leafy kelp with a fullbodied flavour described by Japanese cooks as umami – a pleasant savouriness quite distinct from the four standard taste sensations. Dulse is a purple-red seaweed with an exceptional, slightly spicy flavour. It is also, ironically, a popular hangover cure in Ireland.
Of course, the more traditional gin botanicals have been used in herbal medicine for centuries. Juniper, lemon and orange naturally stimulate and enhance the mood; coriander, cardamom and cinnamon sooth and calm the mind.
Nose: wild fennel, lemon thyme, fresh pine
Body: lemon sherbert, eastern spice, juniper
Finish: rock samphire, sea salt, candied anise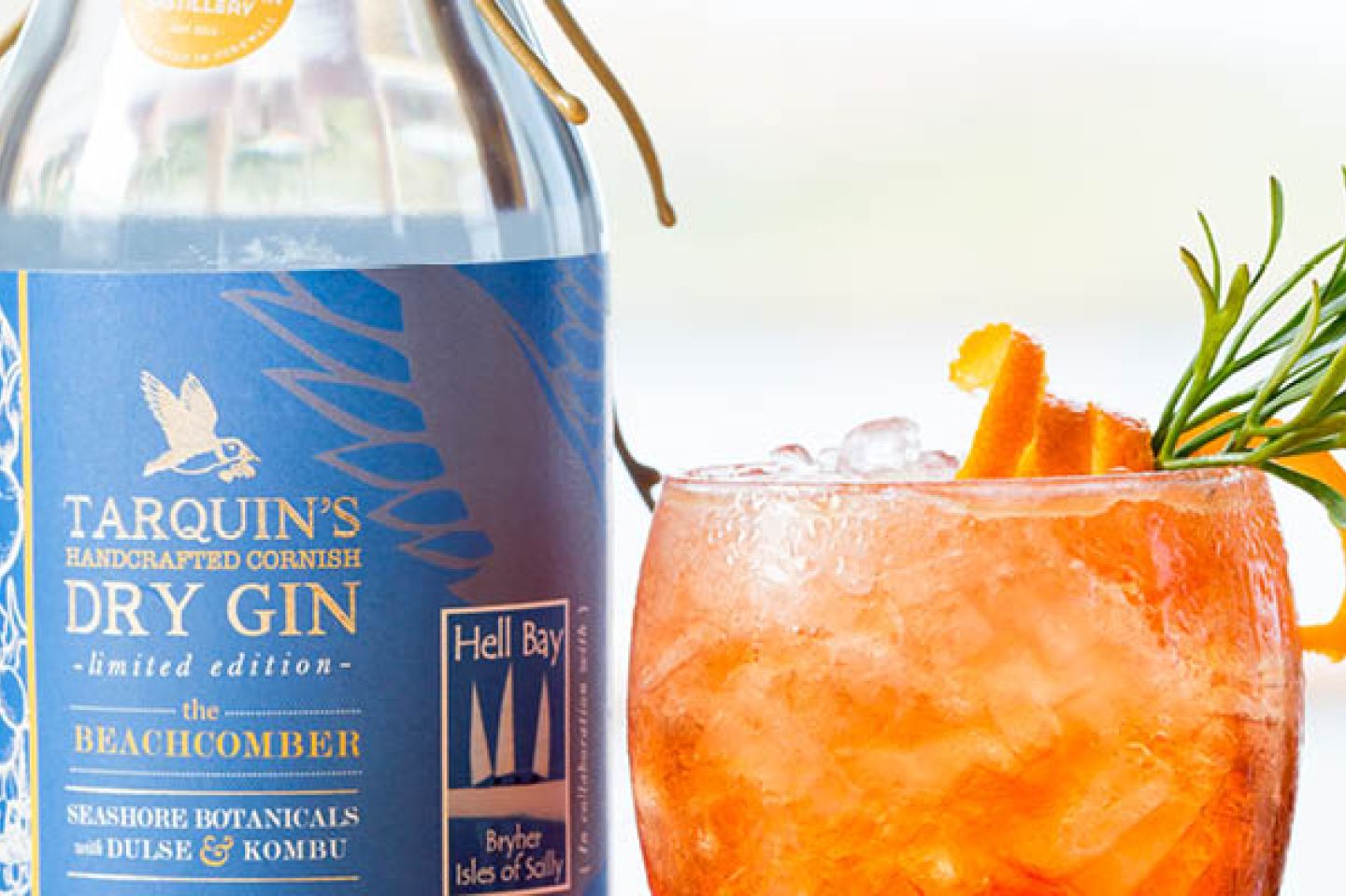 Our Favourite Recipes
After a good deal of taste testing, we are pleased to be able to highly recommend Tarquin's Hell Bay Gin served simply with plenty of ice, Fever Tree tonic, a pink grapefruit slice and a sprig of fresh samphire. Pink peppercorns add an extra hint of spice.
Alternatively, try one of our other serving suggestions...
Tarquin's Hell Bay Martini
50 ml Tarquin's Hell Bay Gin
15 ml dry vermouth
Stir & strain into a coupe Martini glass and garnish with a sprig of samphire and an olive
Hell Bay Dirty Negroni
25 ml Tarquin's Hell Bay Gin
25 ml sweet vermouth
25 ml campari
5ml olive brine
Serve over ice in a rocks glass, stir, garnish with a slice of orange and a sprig of samphire