On a Roll
Standing on the top terrace of Tresco Abbey Garden, beside a tumbling wall pitted with succulent aeonium and crowned with azure agapanthus, gazing out across the canopy of palms to the endless Atlantic beyond, I defy anyone not to feel inspired.
What sets artist Hugo Dalton apart is his ability to translate these inspiring vistas into stirring artwork. Now, in a new collaboration with Paint & Paper Library, Hugo's artwork is quite literally bringing the island home…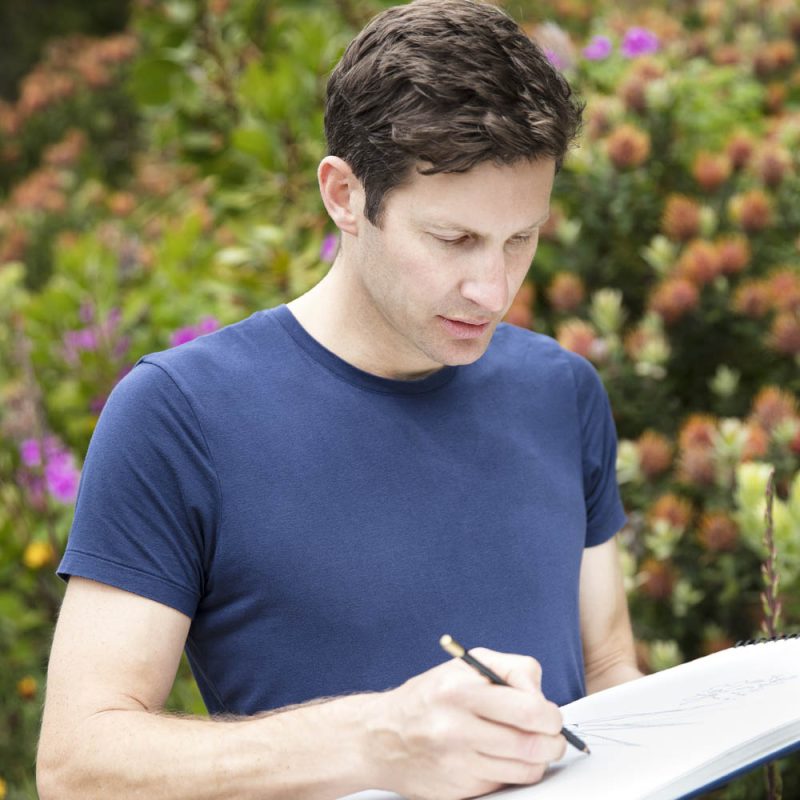 "Tresco is unlike anywhere else," Hugo muses at his studio in bustling, buzzy central London. "There's such freedom that you just can't find anywhere else. Whatever is going on in my life, however busy I am, escaping to Tresco gives me space to be creative.
"I'm very fortunate in my work that I get the opportunity to travel all around the world, but in the back of my mind I can't help but think, 'I kind of prefer Tresco.'"
Like so many, Hugo's relationship with the island goes back several generations. His grandparents visited every year; after a while, his parents joined them; not long after, along came Hugo.
It was on Tresco, under the tutelage of artist and teacher Mary D'Castro, that Hugo's passion for drawing was nurtured. Mary would bring groups of students to Tresco each year, taking them off around the island drawing and painting. A young Hugo would tag along. "I still have her words of encouragement ringing in my ears," he reflects.
At the time, Lucy Dorrien-Smith was working on a new project that was to have a profound impact on the island, and on Hugo. Within the new Gallery Tresco, the fledgling artist found an enthusiastic audience for his first works; indeed, Lucy Dorrien-Smith became Hugo's first paying customer.
"As we were getting the gallery up and running, Hugo would just potter around drawing and painting, showing me his pictures and taking part in the exhibitions hosted by Mary," recounts Lucy.
"One of Hugo's works really struck me: a pastel of the middle terrace of the Abbey Garden; a pelagonium tumbling down the rockery wall. The pieces weren't really for sale, but I made Hugo an offer and that's how I became the proud owner of his first commercial work!"
In fact, it is thanks to this very drawing that Hugo can lay claim to a somewhat peculiar title; one he curiously leaves off his artistic resumé. Hugo remains – to this day – the only artist to ever have their art filched from Tresco's hallowed walls!
"The piece was hanging in one of the flats in the Abbey," recalls Lucy. "When I walked into the flat one day, I found Hugo's piece had literally been cut from the frame – a truly dastardly art heist!"
The scoundrel chose well; clearly prescient of a bright future ahead for Hugo. If it wasn't for the fact Lucy could not bring herself to confess the loss to Hugo for many years, one could almost imagine this incident informed his artistic path.
Today Hugo is best known for his wall paintings – far more challenging to make off with!
"My first commission after I graduated from Goldsmiths was at the home of Kay Saatchi," Hugo says. "I've created artworks for the V&A, the Royal Albert Hall and Tiffany & Co. on Champs-Élysées, and at Liberty of London. I've worked in some truly extraordinary places."
It was through Hugo's wall art that the Tresco Collection came about. "It was just the right moment," explains Hugo. "I'd been using Paint & Paper Library paints for some time and always loved the idea of making wallpaper.
"I'd been thinking I wanted to do something more accessible, and one day I was chatting with Ruth, the director of Paint & Paper Library, when the idea of wallpaper came up. It all stemmed from there."
Interior designer David Oliver founded Paint & Paper Library in London over 20 years ago. Found in some of the most prestigious properties around the world, Paint & Paper Library paints create an unrivalled balance of colour, mood and light in contemporary interiors.
The Tresco Collection combines Paint & Paper Library's famed palette of Architectural and Original colours with designs created by Hugo during his time on Tresco.
"The island has always been a place of joy and inspiration to me," says Hugo. "The clarity and calm of Tresco provides such creative stimulation; the difficult part was choosing what to use in the patterns."
The creative process saw Hugo work with the Paint & Paper Library team to whittle dozens of designs down to the eight that would make up the collection. Hugo then used the same process as in his wall art, projecting his drawings onto walls to arrange patterns and see the overall effect. "You don't want to print the paper and then find a pattern doesn't work with repetition. The patterns have to feel beautiful, peaceful."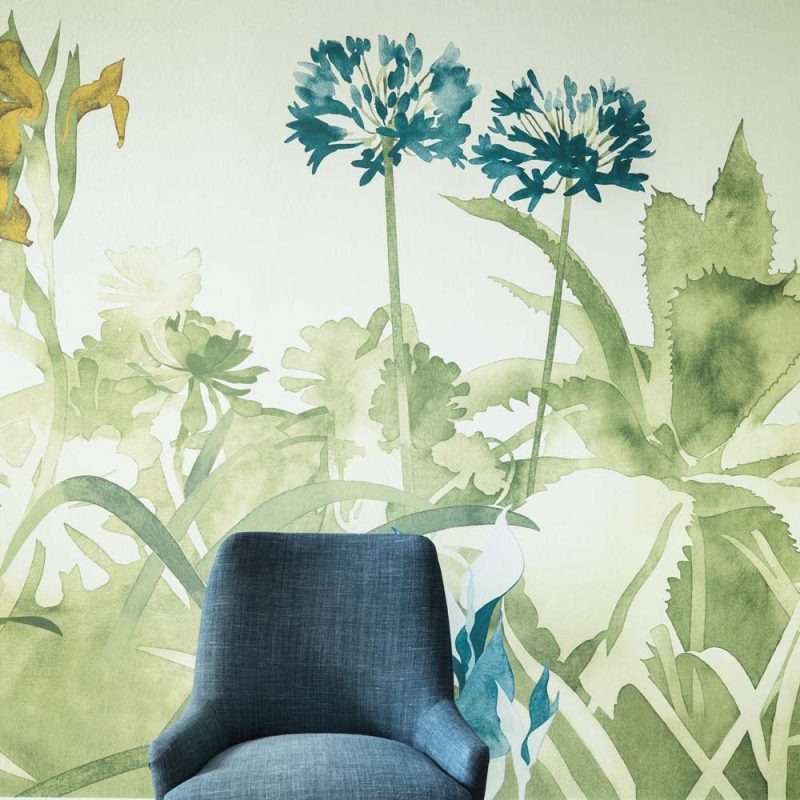 Each work started life as a monochrome drawing and was brought to life by Paint & Paper Library's colour experts who created multiple colour-ways, each with coordinating or complementary paint matches.
Some papers create a statement; others a peaceful feeling; all create a sense of space. "Opening up space is always my aim," says Hugo.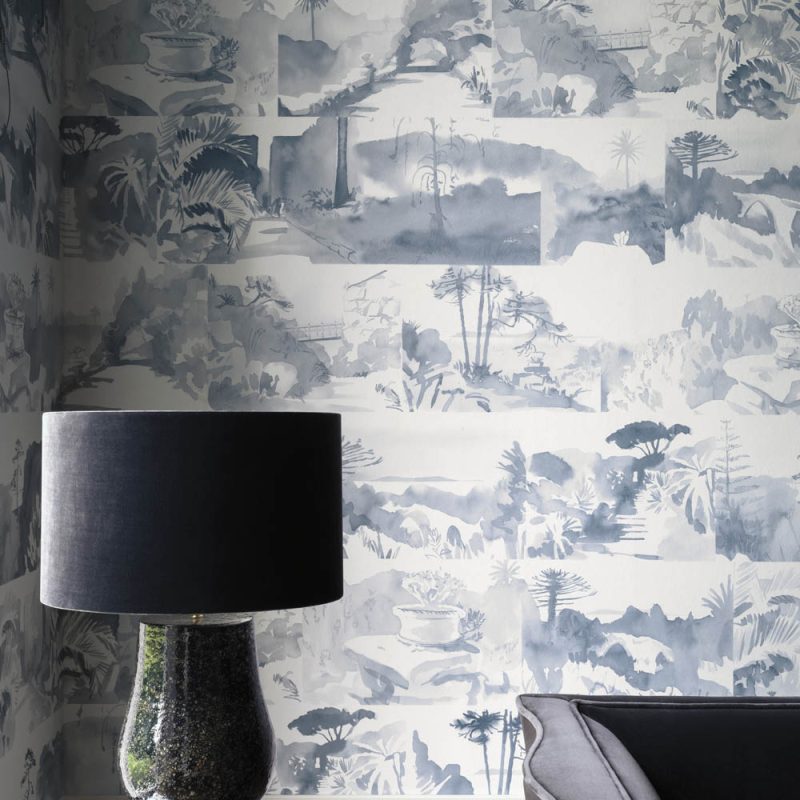 The collection ranges from Abbey Gardens – a contemporary toile inspired by Hugo's watercolours drying in the sun on the garden paths – to Archipelago, with its island silhouettes surrounded by rippling water.
"I love Buds," says Hugo. "I can remember being on the top terrace painting the protea buds, hoping and praying that Mike wouldn't catch me standing in his flower bed! That for me just represents a real moment where I was drawing something totally openly, honestly and freely, which is sort of the spirit of Tresco.
"Then there's Chart, which is inspired by an antique East India Company chart I saw in Tresco Abbey. As I was flying back to the mainland I was looking down at the sea, projecting those ancient lines onto the undulating surface in my mind. Those old charts were so practical and yet also beautiful; I just loved the combination."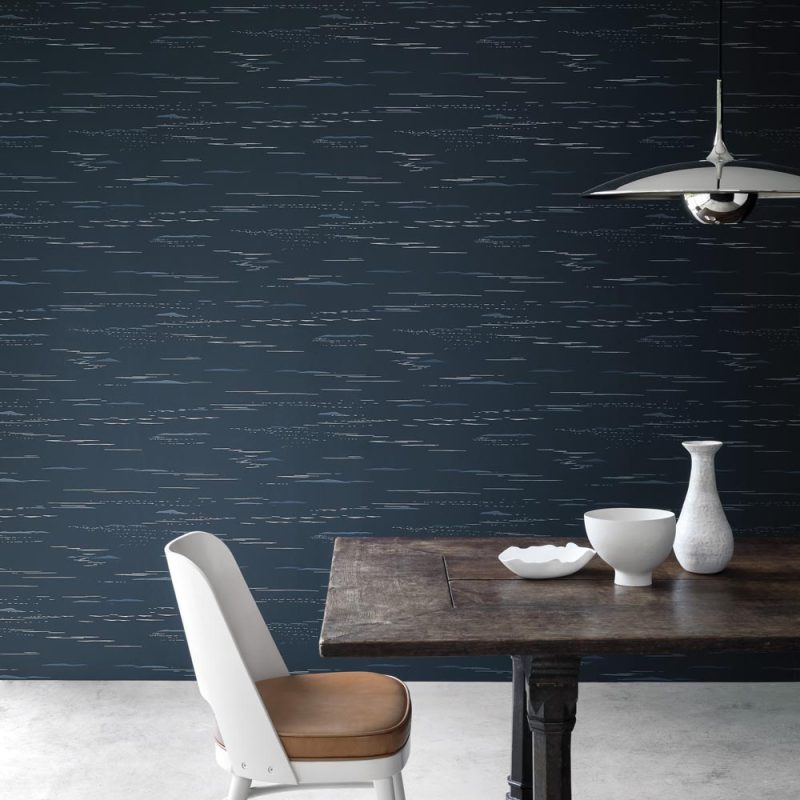 Any Tresco regular will immediately recognise the hardy little plants portrayed in Aeonium, the quintessential agapanthus and aloe vera of Aloe Walk, the almost living Protea Trail and the striking and iconic Lighthouse Palm.
"Each paper has a story behind it, and that's what makes them all special," says Hugo. "I wanted to create something that was stylish and beautiful, but also something that would remind people of Tresco in an elegant, contemporary and sophisticated way. Tresco is honest, open, natural beauty and I've tried to translate that into the paper.
"People are using these papers in their homes on the mainland – a world that is inherently more complicated than Tresco. On Tresco you're on this little island, just a couple of miles long, where everything is perfect and blissful and calm; a haven. I wanted to bring that feeling to people's homes; that sense of a little island of peace and beauty and calm among the hustle and bustle of life."
"You want your home to feel like a private island, and there's a great synergy there with Tresco."
The Tresco Collection is available to view and order at Gallery Tresco, through Paint & Paper Library stockists nationwide, and at Paint & Paper Library online.