North Watch 2
One of two twin cottages nestled on the outskirts of Borough Farm – each property draws you through to the magnificent vista overlooking St. Martin's, Round Island Lighthouse, and the uninhabited islets in between. A gorgeous, rural bolthole for two...
At A Glance
Location

Countryside

Sleeps

2 people

View

Epic sea views out to St. Martin's

Change Over

Wednesday
The Cottage
Weave your way through the pine trees to enter the cottage into a cosy ensuite bedroom. Continue through the property to a light, open-plan kitchen, dining and living space - fire up the log burner and sink into the comfy sofa for a romantic evening encapsulated in the peace and quiet of Tresco nights.

Full-length windows and doors open out onto decking, where you can't help but be struck by the incredible panoramic view out towards St. Martin's.
Our Favourite Thing
We've mentioned it already but…the view from the terrace truly is heavenly. You'll be mesmerised!
Please note: 2023 will be the final year this cottage is available to rent
Property Details
Bedrooms
1 x double bedroom
Heating
Log burner & electric wall heaters.

Includes
Entry to Tresco Abbey Garden, Sea Garden & Tresco Island Spa facilities, Tresco tennis courts and Golf on St Mary's throughout your stay
On the Doorstep
A plethora of peaceful woodland walks extend from the cottage doorstep. The island's central amenities are approximately 15 minutes' walk away.
Facilities
Our cottages are well-equipped with a comprehensive inventory, which includes kitchen appliances and equipment, bathrobes, hair dryers, and an outdoor BBQ with tools. Bathrooms come complete with 100 Acres shampoo, body wash and hand soap.
This property comes complete with a dishwasher and washing machine.
Great accommodation, just the right size for us, and nice and quiet and out of the way with views of St Martins to die for!

The Butlin party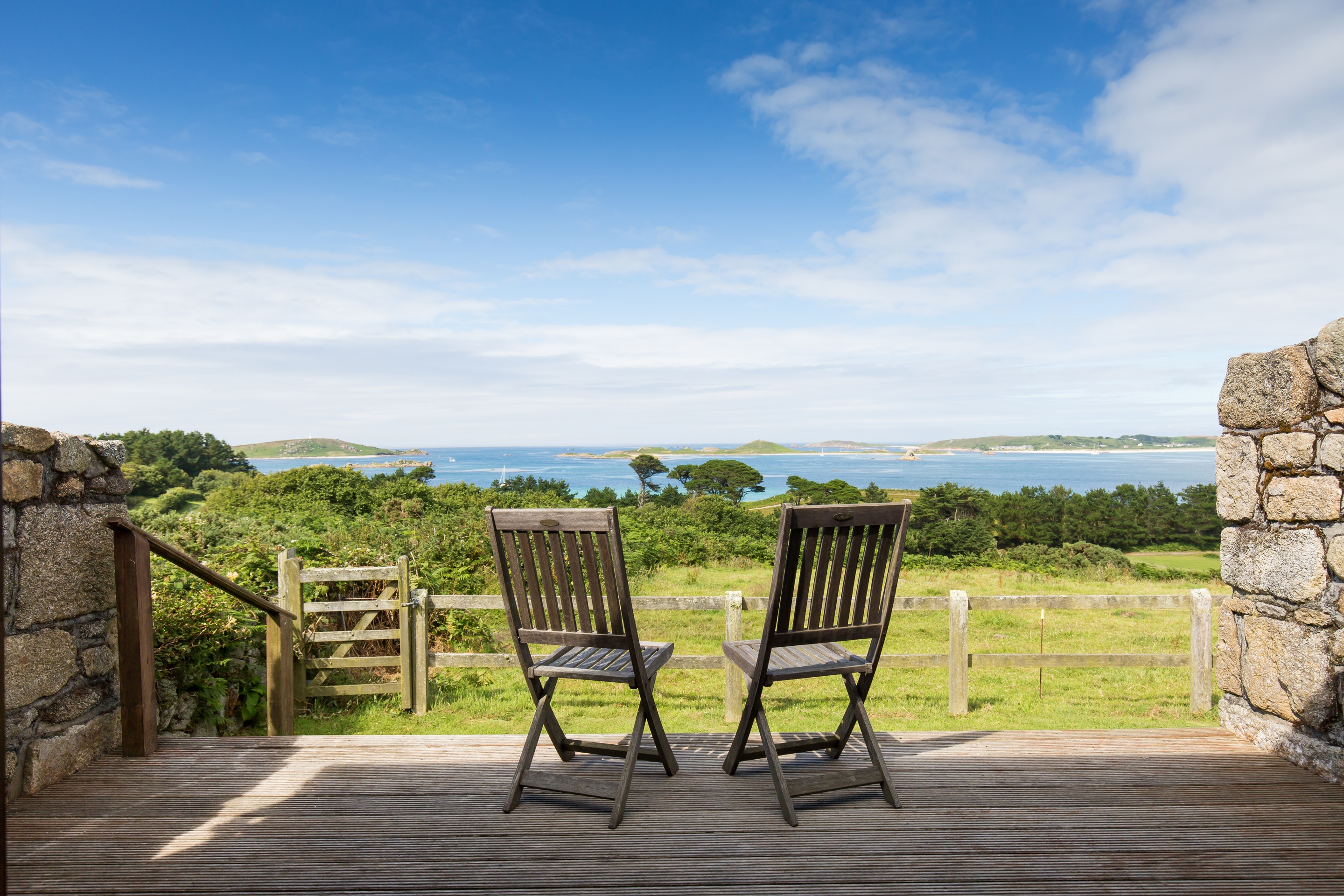 The Location
These cottages benefit from a rural position amongst Tresco's Borough Farm. The elevated location accounts for the breath-taking view from the property, and the woodland surroundings give this stretch of the island a magical quality.

Spend beach days aplenty on the nearby Caribbean-esque coastline stretching from Blockhouse castle to Pentle Bay.
Rental Availability
Sorry, this property doesn't currently have any availability.
But here are some similar properties that do.